How to watch the Brett Kavanaugh and Christine Blasey Ford hearing live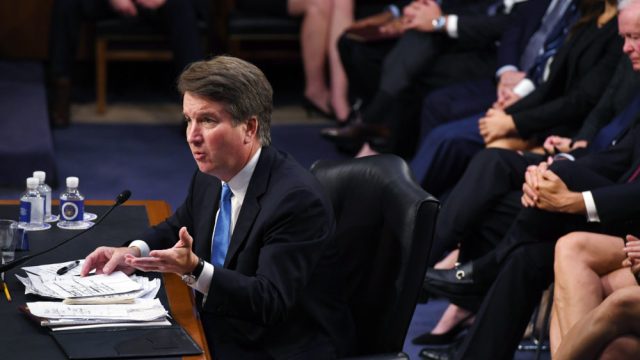 On Thursday, September 27th, Brett Kavanaugh and Christine Blasey Ford will testify in a Senate hearing regarding Ford's allegations against Kavanaugh. The hearings could result in the Supreme Court nominee being denied the position—though some worry that Ford will be treated unfairly during the proceedings (much like Anita Hill was 27 years ago during her hearing against Supreme Court nominee Clarence Thomas). Either way, the hearing will be critical—both for Kavanaugh's confirmation process and the #MeToo movement at large. A September 26th poll from NPR, PBS NewsHour, and Marist found that 58% of responding adults plan to follow it.
So how can you watch the hearing?
The proceedings will begin with Ford's testimony at 10 a.m. ET. The Indianapolis Star reports that viewers can tune in on CNN, Fox News, PBS NewsHour, C-Span, and Vice News for live coverage of the event both on TV and online. Facebook and YouTube will also be providing free streams of the hearing. Radio listeners will be able to hear the proceedings on NPR and C-Span Radio. And if you can't watch live, C-Span 2 will also air the hearing at 8 p.m. ET.
The New York Times reports that Rachel Mitchell, a sex crimes prosecutor from Arizona, will conduct the questioning at the hearing. In a 2011 interview with FrontLine Magazine, Mitchell said that it is a "common misconception" that a victim of sexual abuse would report it right away—an attitude that differs dramatically from comments Kavanaugh's allies have made about Ford.
It remains to be seen whether or not Mitchell's questioning and Ford's testimony will have an impact on Kavanaugh's confirmation. Politico notes that the Senate Judiciary Committee will vote on Kavanaugh's appointment on the morning of September 28th—less than 24 hours after the Senate hearing.
According to CNN, Ford and her legal team expressed dissatisfaction with the way the Senate Judiciary Committee handled arrangements for the hearing, citing the Comittee's decision to not subpoena Mark Judge, the classmate who was allegedly present at the time of Ford's assault.
There is so much at stake in the September 27th Senate hearing, and we're hoping that, no matter what happens, Ford is given a fair chance to tell her story. In the meantime, we'll be following this story closely as it unfolds.