Watch Ryan Gosling teach Jimmy Kimmel the Waltz and prepare to swoon 10,000 times
We're pretty sure we've had a dream like this, but last night (December 7th) Ryan Gosling taught Jimmy Kimmel the Waltz and now we're not sure whether this real life.
Despite the fact that Ryan Gosling shut down the "Hey Girl" meme, there are still SO many reasons why we still love him. The 36-year-old actor is currently promoting his latest movie, the all singing and dancing La La Land, which also stars the wonderfully talented Emma Stone.
For those unaware, La La Land follows the story of aspiring actress Mia (Stone) and jazz musician Sebastian (Gosling) as they attempt to achieve their dreams in Los Angeles while also dealing with their burgeoning relationship.  Indeed, the musical is already being tipped as a front-runner in this year's Oscar race.
https://www.youtube.com/watch?v=0pdqf4P9MB8?feature=oembed
Given that the film is a musical and therefore features dancing (gosh, we love musicals), Gosling dropped by Jimmy Kimmel to talk about how he tapped into his former Mickey Mouse Club talents of singing and dancing for the role. While Gosling said that he couldn't quite remember how to tap dance, he did attempt to teach Jimmy Kimmel how to Waltz and now we're SO insanely jealous it's unreal.
Things didn't start off great…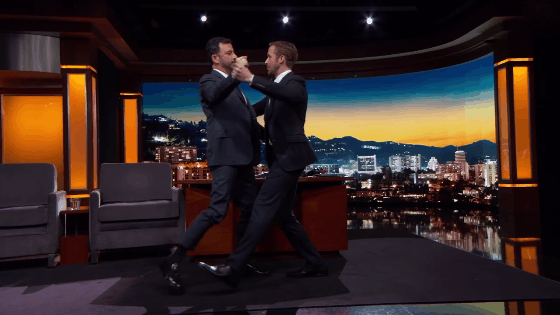 In fact, Ryan got rather annoyed the Jimmy wasn't focusing his attention on his face (understandable, tbh).
[tempo-video id="5240399634001″ account="4607804089001″]
However, the pair did manage to (sort of) complete a full turn around the studio floor.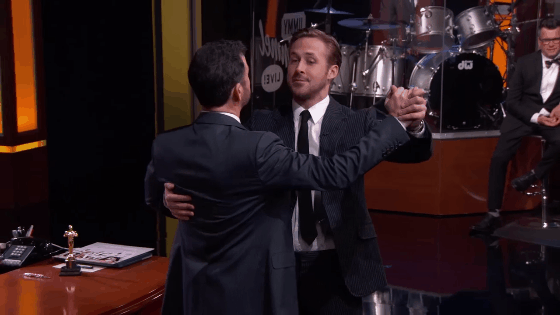 Watch Ryan Gosling and Jimmy Kimmel (attempt to) Waltz below.
https://www.youtube.com/watch?v=Vnf-t4GaiiA?feature=oembed
What's more, Lionsgate also uploaded a brand new clip from La La Land. The scene is a musical number and sees Gosling singing the wistful "City of Stars" before later being joined by Emma Stone.
https://www.youtube.com/watch?v=cZAw8qxn0ZE?feature=oembed
Luckily there's not too long to wait until you can see Emma Stone and Ryan Gosling's movie musical either. In fact, La La Land opens in theaters tomorrow (December 9th).