Watch Madonna take the most musical trip around New York in her Carpool Karaoke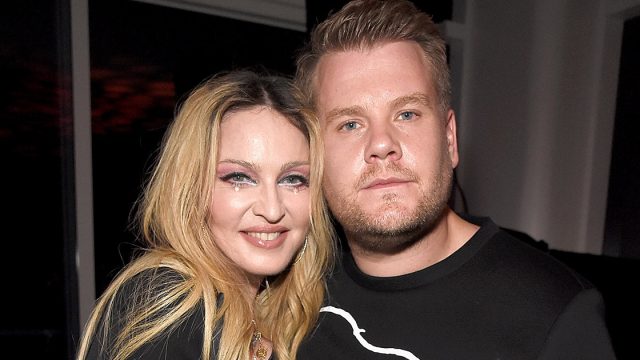 The moment finally arrived at last! Madonna did Carpool Karaoke and it was EVERYTHING. Earlier this week the iconic singer had teased her turn in the popular TV segment and had already shared a picture of her and host James Corden riding around New York.
So far this year, we've been treated to LOADs of amazing Carpool Karaokes from the legendary Ms. Britney Spears to Lady Gaga, and even the First Lady of the United States, Michelle Obama, joined James Corden for a musical singsong in his car (joined, of course, by Missy Elliott).
However, none of the above Carpool Karaokes have seen someone stick their leg out a window, twerk while moving slowly in traffic, and reveal that they once french kissed Michael Jackson. But then again, none of those people are Madonna.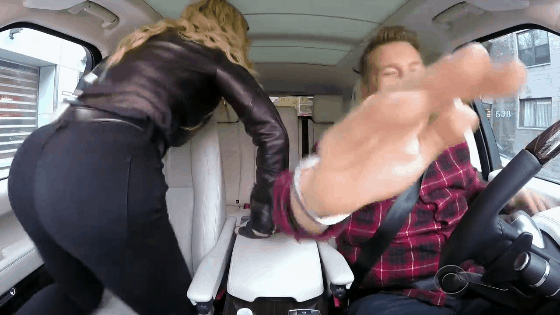 While we were hoping for a few more deep cuts, Madge and James gave us renditions of tracks like "Music," "Ray of Light," "Bitch I'm Madonna," "Vogue," "Express Yourself," and a rather touching acapella version of "Don't Cry For Me Argentina."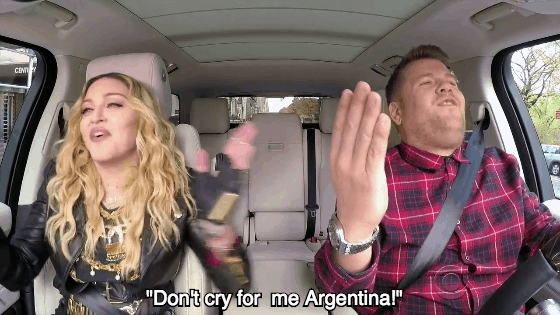 What's more, James quizzed the singer, who has sold over 200 million records, about her family life, where she claimed that her children were rather rebellious while she was "quite square."
Madonna also revealed that while when she was younger she wanted to be a nun because she liked their outfits, she had, in fact, been excommunicated by the Catholic Church three times across her career.
However, the most revealing moment came when James asked her about being friends with Michael Jackson.
Madonna revealed that at one point she had, in fact, french kissed Michael Jackson…with tongue!
"Baby, I've been around," she said, detailing how she was the one to make the first move.
"He's a little bit shy," she continued. "However, he was a willing accomplice. I did get him to loosen up with glass of Chardonnay, and it did wonders."
Watch Madonna's full and revealing Carpool Karaoke below.
https://www.youtube.com/watch?v=Sx2PfL2ekTY?feature=oembed
A-M-A-Z-I-N-G! Tbh, we actually couldn't imagine anything better than being stuck in traffic with the Queen of Pop herself. Imagine the conversations you could have? Imagine the songs you could sing!? We're SO jealous that James Corden got to do just that.
You can catch The Late Late Show with James Corden weeknights on CBS.