Watch Lana Del Rey's eerily beautiful cosmic new video for "Love"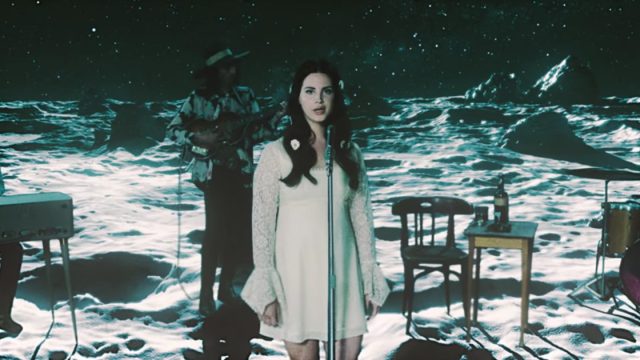 Lovers of vintage Instagram filters and melancholic pop songs rejoice, as Lana Del Rey has shared the video for "Love," and it's eerily beautiful.
Over the weekend, billboards started to appear in L.A. teasing that Lana Del Rey was back with something. Later on Saturday (February 18th), the singer's new single, "Love," leaked onto the internet. The star then quickly rush release the track, the first song taken from her yet-to-be-titled fifth album, which is scheduled for release later this year.
Co-written with Rick Nowels and by Emile Haynie, who also co-produced alongside Benny Blanco, the song is suitably cinematic complete with sweeping strings and Lana's emotive and syrupy vocals.
https://www.youtube.com/watch?v=P9zYSBK7Blw?feature=oembed
Now Lana Del Rey has shared vintage-inspired music video for the song, and it's a total cosmic dream.
Speaking during an Instagram live video session ahead of the video's premiere, Lana told how the Rich Lee-directed clip featured heaps of her friends and collaborators.
"We have all our friends in the video," she said, "Hunter… Jonathan Wilson, my friend is playing drums, Jeff and Omar are in my band, Savannah is in the video – she's in the truck with Hunter. But I just love everything Rich did with making the space scenes look so real but so surreal at the same time."
The video feeds into Lana's retro-heavy aesthetic, and celebrates falling in love. The clip sees a young couple and their friends transported to space. Lana appears throughout rocking a '60s inspired hairdo, and is later seen performing in space.
Describing the video's aesthetic, Lana said:
"I would say retro sensibility with a futuristic flair.
Watch Lana Del Rey's outer space video for "Love" below.
https://www.youtube.com/watch?v=3-NTv0CdFCk?feature=oembed
Meanwhile, in a press release announcing the video, it was teased that Lana's fifth album is set to feature some surprising guest features. Speaking about the collection, Lana said: "I made my first 4 albums for me, but this one is for my fans and about where I hope we are all headed."

Lana Del Rey's "Love" is available now.