Watch Kristen Bell's savage opening monologue at the 2018 SAG Awards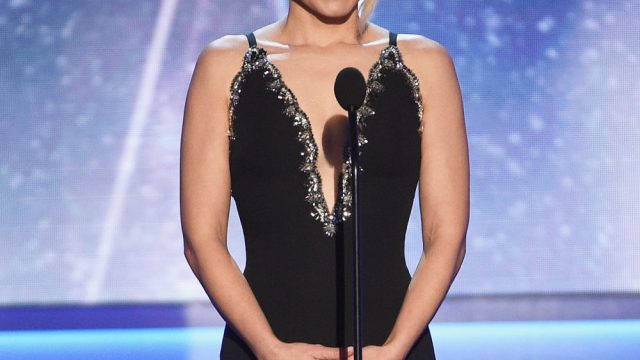 As you probably know, Kristen Bell was the first-ever host of the 2018 Screen Actors Guild Awards, and, predictably, she killed it. She especially shone during her opening monologue, where she managed to deliver the perfect mix of powerful words, comedic one-liners, and thinly veiled insults. Bell's savage opening monologue was one for the books, and we are so here for it.
The speech started off with the perfect joke for the SAG Awards crowd when Bell introduced herself, saying, "I'm Kristen Bell, and I'm a narcissist. Sorry. I am an actor."
She then delivered a not-so-subtle jab at Melania Trump and her unsuccessful fight against cyberbullying. Bell said, "There has never been a host for this awards show before. It's the first time. First person. First lady. And I honestly never thought that I'd grow up to be the first lady, but you know what? I kind of like it. I think my first initiative as first lady will be cyberbullying. I have yet to see any progress made on that problem quite yet." Ouch!
To soften the blow, Bell immediately followed it up with a good-natured jab at Tony Hale, saying, "I'm looking at you, Tony Hale. You're a bully. You guys, he's savage on Twitter. I'm serious."
Bell has been an outspoken supporter of the Time's Up and #MeToo movements, so there was no doubt that she was going to say something about the Time's Up movement, and when she did, she really hit the nail on the head. She said, "Everyone's story deserves to be told — especially now. We are living in a watershed moment, and as we march forward with active momentum and open ears, let's make sure that we're leading the charge with empathy and diligence. Because fear and anger never win the race." Her words were powerful and so important.
Bell ended the monologue on the perfect note: with a nod at her role in Frozen 2. We wouldn't expect anything less!
https://www.youtube.com/watch?v=w_kjtwNmgPc?start=91&feature=oembed
After this, we aren't sure what we want more: an entire awards show dedicated to Bell, or that TV show with Bell and David Harbour. Let's make at least one of them happen.