Emilia Clarke, Felicity Jones, Lena Headey, and others play themselves in this short about Hollywood sexism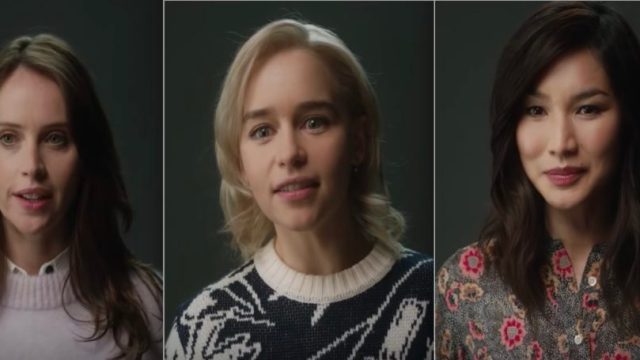 Sexual harassment and gender-based discrimination in the film industry have been at the forefront of conversation since late 2017, thanks in large part to the Time's Up movement and its accompanying legal defense fund. Now, the issue of Hollywood sexism has made its way onscreen, with the tongue-in-cheek short film "Leading Lady Parts"—and it stars so many of our favorite actresses.
According to the Los Angeles Times, British actress Gemma Arterton and her company, Rebel Park Productions, created the eight-minute video, which first premiered on England's BBC4 on July 30th. The short boasts an all-female creative team; it was written and directed by Jessica Swale and produced by Arterton and her co-producers Jessica Malik and Jessica Parker.
Arterton told the Times that she got the idea for the film at a Time's Up meeting.
"It was just women in a room, chatting—we felt everything was very serious, she said. "There were really big issues being spoken about. We felt it would be fantastic to do something light-hearted and more comical that got the message out without beating anyone over the head."
"Leading Lady Parts" is the first in a series of shorts about workplace gender inequality. Although it's not directly related to Time's Up, Arterton told the Times that she hopes it will raise awareness for the Justice and Equality Fund created by Time's Up U.K.
After a mere three weeks of casting and fundraising, "Leading Lady Parts" was ready to film. The short features all-stars like Lena Headey, Emilia Clarke, and Felicity Jones, playing themselves auditioning for the female lead in a new movie. As they read for a panel of casting directors, they're subjected to numerous sexist, and often racist, comments. Clarke is told to smile more, and Jones is instructed to remove her clothes—even though her character is a doctor. Meanwhile, Wunmi Mosaku, a black actress, isn't even allowed to read for the part (while Asian actress Gemma Chan is asked to read it again, "but more…white").
In one of the film's sharpest lines, Catherine Tate tells Florence Pugh:
"It's not rocket science, darling. We're just asking you to be thin and curvy; sexy and innocent."
In the end, the leading lady role goes to none other than…Tom Hiddleston, who swoops in to steal it from the actual women.
The full film is available on YouTube, and you can watch it below.
https://www.youtube.com/watch?v=BEdJ4PIGad4?feature=oembed
Sexism is no joke, but even so, humor is sometimes the best way to make a point. We're grateful to projects like Arterton's for raising awareness—while also making us laugh.