Watch celebrities read from "Fire and Fury" at the 2018 Grammys, and oh the shade of it all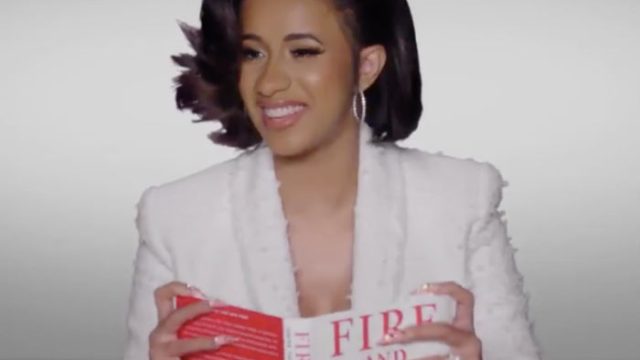 The 2018 Grammy Awards have been full of powerful, emotional moments thanks to stars honoring the #MeToo and Time's Up movements. In fact, the show has been so focused on honoring these movements that there haven't been many mentions of President Donald Trump (not that we're complaining!). But arguably the funniest moment of the night did just that when we got to watch celebrities hilariously react to Fire and Fury at the 2018 Grammys.
About midway through the show, host James Corden pulled out his best skit yet: a pre-recorded video of some of the night's biggest stars reacting to Michael Wolff's book Fire and Fury. Wolff wrote the controversial book after spending time in the White House during Trump's first year of presidency. Wolff released the book early after Trump threatened legal action, and it immediately started selling out at book stores everywhere. It's an in-depth look at Trump's White House, and it made excellent content for the Grammys.
In the video, Cardi B, John Legend, DJ Khaled, Cher, and Snoop Dogg audition to narrate Fire and Fury by reading passages out loud and giving their own unique reactions that fit their personalities perfectly. They were all hilarious, but the best moment of the video had to be the reveal at the end: Hillary Clinton reading a passage out loud, and Corden telling her she got the job.
The whole video is absolutely worth a watch, even if you've already seen it:
Twitter was thrilled with the video, and users immediately began having their own hilarious reactions:
https://twitter.com/udfredirect/status/957812348634484736
https://twitter.com/udfredirect/status/957811962930515968
It was basically perfection.