You can watch Broadway shows from the comfort of your home—here's how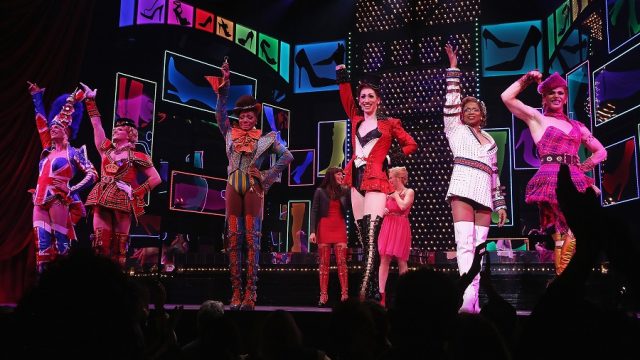 With so much of our normal lives put on pause amid the growing coronavirus (COVID-19) pandemic, we're all looking for ways to stay entertained while social distancing. Sure, there's no shortage of books to read, shows to stream, or movies to re-watch, but if you're missing a bit of Broadway magic right now, we have the best news of the day for you. PBS offers a slew of Broadway shows to stream at home, and it's all thanks to its THIRTEEN Passport service.
With a $5 monthly donation (because PBS is a public broadcasting service) or a $60 annual donation, you get access not only to an extensive catalog of programming but also to some of the most popular Broadway shows out there, including Kinky Boots and The Sound of Music.
Other picks in the PBS Broadway collection include An American in Paris: The Musical, 42nd Street, and Much Ado About Nothing, so there really is something for everyone. It's a small but important slice of comfort during these turbulent times, indeed.
But it's not just PBS. You can stream other Broadway shows from loads of different places right now, too.
It turns out that these aren't the only Broadway shows available on streaming right now. Per Playbill, Billy Elliot: The Musical is available on YouTube, Amazon Prime, iTunes, Google Play, and Vudu; Into the Woods is on YouTube, Google Play, Vudu, and Amazon Prime; Newsies can be found on YouTube, Amazon Prime Video, iTunes, Google Play, and Vudu; Rent is on available on Amazon Prime, Google Play, Vudu, and YouTube; and Cats is on BroadwayHD.
What better time than right now to get lost in a little theater? At this rate, live shows around the country are likely to be suspended for the next eight weeks, per the recent recommendation by the Centers for Disease Control and Prevention (CDC) that mass gatherings of 50 people or more come to a halt for two months in an effort to slow the spread of coronavirus.
While theater lovers are surely missing the in-person experience—the lights going down and entering into a new world for a few hours, surrounded by hundreds of people—we're grateful that these services exist for us to watch at home. And there's no better antidote to boredom than humming your favorite showtunes, right?
As information about the coronavirus pandemic rapidly changes, HelloGiggles is committed to providing accurate and helpful coverage to our readers. As such, some of the information in this story may have changed after publication. For the latest on COVID-19, we encourage you to use online resources from CDC, WHO, and local public health departments, and visit our coronavirus hub.