Watch "Beauty and the Beast's" Luke Evans sing Adele in the shower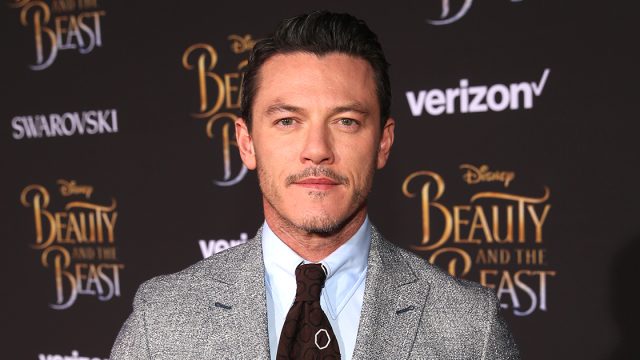 If you've ever wondered what it would look like if Beauty and the Beast star Luke Evans sang Adele in the shower then wonder no longer, as that situation has become a reality thanks to The Ellen DeGeneres Show. 
We can't believe that after what's felt like an eternity of teasing and trailers, the live action remake of Beauty and the Beast is finally coming to theaters this Friday (March 17th)! Of course, the film stars Emma Watson as Belle, Dan Stevens as The Beast, and Luke Evans as Gaston. In fact, we're super excited to get a peak at Evans' turn as the villain of the story, as we have a feeling it might be pretty epic.
While promoting the movie, however, Luke Evans decided to showcase another side to himself, and it involves his love for Adele.
Stopping by The Ellen DeGeneres Show to chat to our fave dancing talkshow host, Evans was surprised when Ellen showed the audience a video of him singing Adele's classic "When We Were Young."
"This is me singing Adele… in my living room, and my mom is on the little iPad on the screen, if you see there. And I'm singing… and this is me just belting out, 'When We Were Young,' Evans explains to the audience. "This is what I do on a Sunday morning, guys, is learn Adele tracks.
Evans also revealed that he actually FaceTimes his mom whenever he wants to learn a new song (CUTE), before Ellen surprised him again in typical Ellen style. While Adele wasn't present to sing with Luke, Ellen had organized a makeshift shower with a cutout of Adele for the actor to sing his fave song with.
"So you love to sing, you love Adele, you love to sing in the shower, so we got you something so you could sing with it," Ellen said, before introducing the prop. "So now you can sing with Adele." 
Evans then took his place and belted out an incredible rendition of "When We Were Young."
https://www.youtube.com/watch?v=NAo7JFnI7s0?feature=oembed
We knew that Luke Evans could sing, but we're so darn impressed with how good he is! Perhaps he should team up with Adele…
Meanwhile, you can catch Luke Evans in Beauty and the Beast when it hits cinemas on March 17th.