Pictures from Washington, D.C.'s Equality March are filling us with so much #pride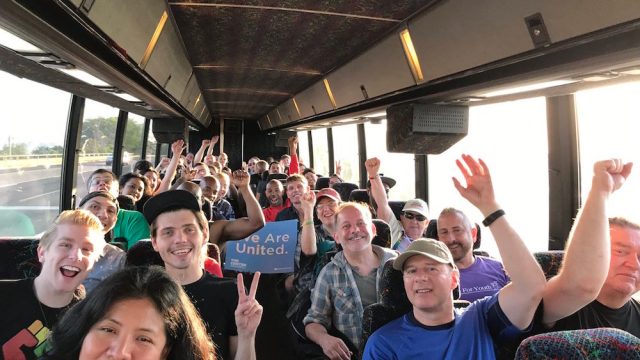 There are lots of ways to celebrate Pride Month, both as a member of the LGBT community or ally. There are parties like the Capitol Pride Festival in D.C., Twitter hashtags celebrating diverse relationships, odes to the LGBTQ icon the Babadook, and, of course, there are marches.
But the Equality March, held in cities all across America, isn't your average pride parade. According to the official Equality March 2017 website, this demonstration is "a grassroots movement which will mobilize the diverse LGBTQ+ communities to peacefully and clearly address concerns about the current political landscapes and how it is contributing to the persecution and discrimination of LGBTQ+ individuals."
"Progress has been made over the past decade in the ongoing fight for LGBTQ+ inclusion, access, and justice, but there's still so much more to be done – especially since the progress we've achieved is currently being threatened by increased hostile rhetoric, discriminatory policies, and violence perpetrated against the most vulnerable in our communities," the website states. "Lack of unity has caused many of our needs to be neglected or ignored. But now, for 2017 and beyond, we are working to learn from our prior mistakes and come together through common belief in inalienable human rights and dignity for all."
This year's pride march isn't just about celebrating the LGBTQ community as a marginalized group.
It's also about specifically supporting marginalized people within the LGBTQ community.
"We will use the Equality March, and sister events across the country, to give voice to our concerns, and to support, uplift, and bring attention to those in our communities who are targeted due to immigration status, ethnicity, religion, skin color, gender, and disability. We affirm and celebrate that we are a mix of diverse communities."
https://twitter.com/udfredirect/status/873902164443373568
We love that Pride isn't just about feeling proud — it's also about taking care of the community and taking action for the community. Seeing all the pictures from the walks across the country make our hearts swell up with, well, pride.
There were also, of course, some clever signs carried by the marchers.
Celebs like Sara Ramirez, who came out as bisexual last year, also joined the march.
We're so excited that so many people got out and joined the movement — and that they're not going to let anything stop them fighting for equality.