WANT/NEED: A pink Polly Pocket hat for your inner '90s kid, and more stuff you want to buy
Welcome to Want/Need, a weekly roundup of the things our Deputy Editor, Emily Popp, is currently coveting. It might be a pair of pink leather loafers that make her feel like she's got her s*#t together, or a pool float in the shape of an avocado (because she's not over the novelty pool float trend). Or maybe it's as random as, like, dryer sheets. Basically this is all the stuff she's obsessed with. Poppy's picks, if you will.
Hot Topic Polly Pocket Hat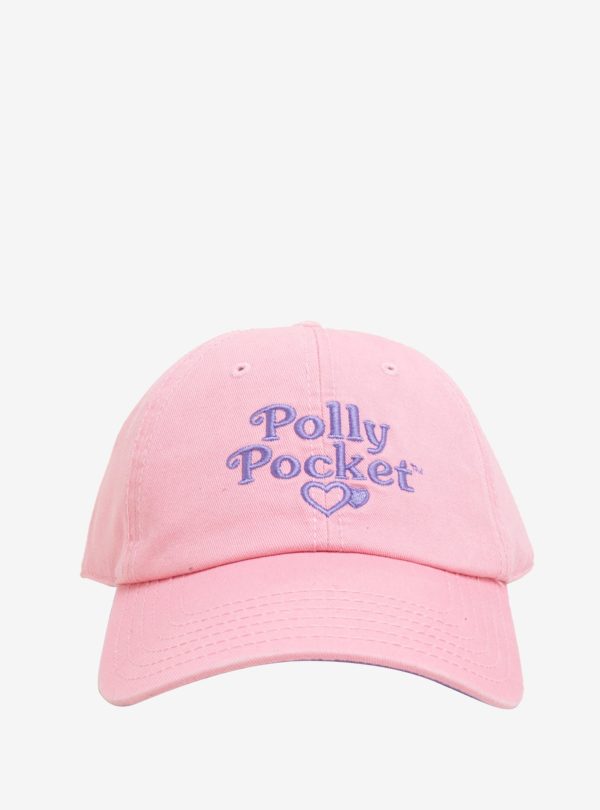 I can't tell you how happy Hot Topic's Polly Pocket collection makes me. Growing up, some of my friends would call me "Polly Pocket," because I was small and blonde. I also happen to be truly obsessed with the '90s toy, and I had a very impressive collection of Polly Pocket cases. I used to bring them with me on long drives (they were so portable!) and spend hours playing with them. So when I heard Hot Topic came out with a line of Polly Pocket-themed fashion and beauty items, I channeled my inner 3rd grader and squealed like the true '90s kid I am. There are so many gems in this collection, but my favorite has to be this pink Polly Pocket logo hat—complete with a purple ribbon bow in the back! It's so cute it hurts, and I've literally never seen a hat that makes me feel more myself.
Splendid Spoon Meal Delivery Service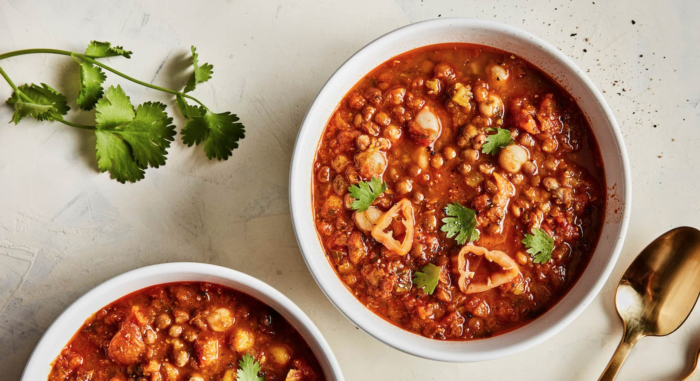 Recently I've been, for lack of a better phrase: BUSY AF. And I haven't had time to cook as much as I'd like. When I get really busy, I too often slip into bad habits like buying processed foods or swinging through the drive-through, because, well, it's just so dang easy. So I decided now is a perfect time to give Splendid Spoon a whirl. New year, new you, amiright?! Splendid Spoon is a meal delivery service that makes ready-to-eat, vegan, gluten-free soups and smoothies. I first heard about when I was scrolling through Instagram one night, and I saw a couple of my friends post Insta Stories about how they tried out Splendid Spoon and loved it. And these friends of mine are really healthy eaters that make smart choices, so I thought—ok, that's a good sign! You can choose from weekly or monthly plans, a mix of either just soups or soups and smoothies. It's all very customizable, which I like.
So, let's cut straight to the good stuff: the taste. That's really what matters when it comes to these pre-made meal services. Are they delicious? The short answer? YES. They are super delicious. To elaborate, what makes them so tasty, IMO, is that they are made with really high-end ingredients that you'd typically find in a trendy restaurant. They are comforting but not full of cream-based, high-sodium ingredients like your typical "comfort soups" that aren't especially healthy. The soups are super hearty, like their red lentil dal with cumin and rosemary or red beet buddha bowl with sweet potatoes and quinoa. I was shocked at how filling they were—yes, these are "health soups," but these are not watery, flavorless soups. They are chock-full of delicious veggies and fancy seasonings that make them feel like a real, robust meal. As for the smoothies, those were some of my favorites, because I'm a real "smoothie head." It was hard to choose a favorite, but I think it's a 3-way tie between the blackberry basil, the chocolate cherry or the strawberry coconut. Drinking these really helped reduced my sugar intake, because there's no added sugar in any of their drinks. I didn't do Splendid Spoon to lose weight, so I can't speak to that, but I can say that I felt less bloated and had more energy because my processed sugar and sodium intakes were much lower.
But what about the price, you ask? I'd say it's super reasonable considering the convince and the clean, high-end ingredients they use in all their recipes. They start at $8.87 per meal, which is way better than the $20 I would spend on sushi takeout when I'm pressed for time. So, in a way, you can save money on this plan if you're like me and end up coughing up a ton of cash on going out to restaurants and ordering take-out food. Bottom line? Splendid Spoon is one of the healthiest, most filling ready-to-eat meal delivery services I've ever tried.
Madewell 10″ High-Rise Skinny Jeans: Cutout Tulip Hem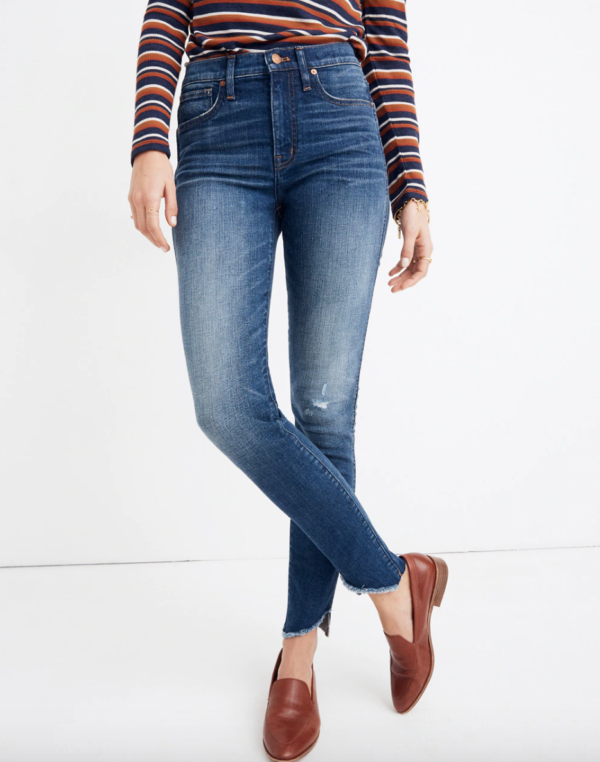 My favorite style of jeans is high-waisted. I just think they're so flattering and I can wear all my crop tops with them. I get way more mileage out of my high-waisted jeans than I do any others. And one of the brands that I think does high-waisted the best is Madewell. Some of my favorite skinny jeans are from there, and I love their 10-inch style the most. This particular pair I don't own, but I've got my eye on 'em. I love that they're ultra-high-rise and also that they've got a cool frayed "tulip-shaped" hemline for some extra edge. I'd wear these with pretty much any top in my closet.
Spongelle Blue Iris Body Wash Infused Buffer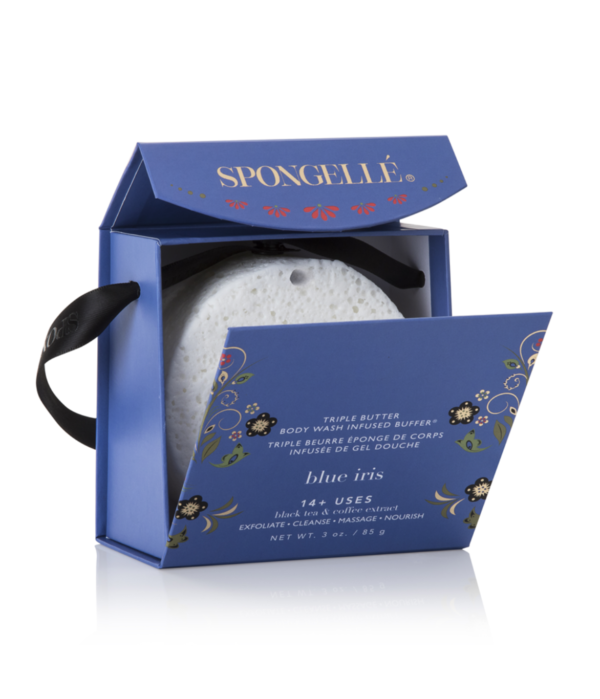 It's no secret that there's nothing I love more than a hot shower, and my favorite type of beauty product is a bath product. I love bath products so much, because they are the most relaxing of all the beauty products. I am obsessed with this brand Spongelle, because their product is a perfect hybrid of soap and a sponge. It's basically a reusable body buffer infused with a body wash that lathers when wet. They have a ton of fabulous scents, but I think my favorite of the moment might be "Blue Iris," which is so fragrant with notes of soft gardenia. It makes my entire shower smell better even when I'm not using it. I got caught in the rain the other night and I came home cold, wet and miserable. I hopped in a hot shower and used the Spongelle, and I instantly felt one million times better. Also, that packaging, though! So cute.
Après Variety Pack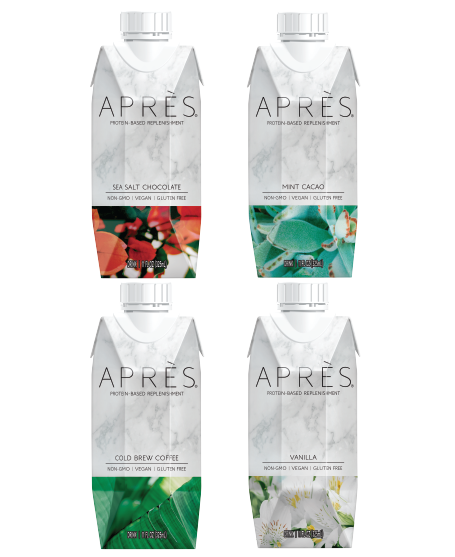 I recently tried to cut out sugary drinks from my diet and it was one of the hardest things I did, but I felt so much better for it. The best way I can describe it is that my brain just felt better. I felt less cloudy or slowed down. But it was hard to only drink water and sparkling water. I craved other drinks that were more flavorful. So I started seeking out health drinks that were low in sugar. I discovered Après, a protein-based drink with clean, plant-based ingredients, and each flavor only has 6 grams of sugar. The other day at work around 4 p.m. I was hit HARD with a craving for a candy bar. So instead I drank the sea salt chocolate flavor. It is dang delicious, and it satisfied me and dried up my craving for processed sugar lickety-split.
Brooklyn Bedding Brushed Microfiber Sheets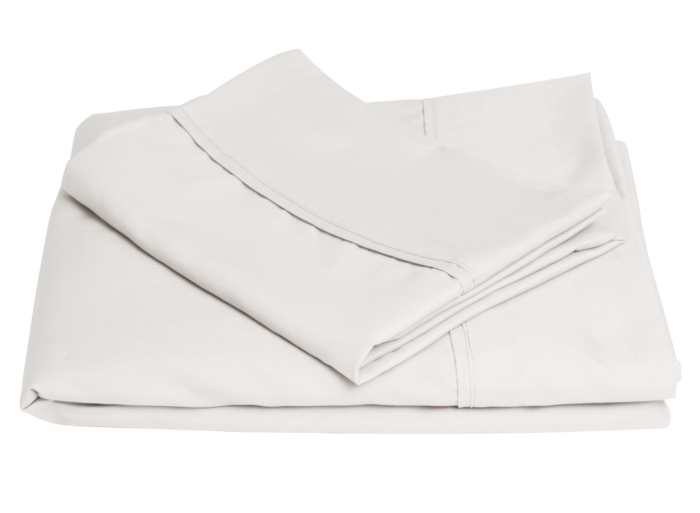 I feel like I've got "adulting" down fairly well now that I'm in my 30s, but there are times where I'm like, damn Emily, get it together! And when I had guests stay over the other week and I barely had a pair of nice sheets to put on their air mattress, I had a moment of clarity: I am in dire need of more sheets! I love Brooklyn Bedding because they have "fancier" more expensive options like bamboo twill sheets ($79-$129), but then they have super affordable options like these brushed microfiber sheets, depending on how much you want to spend. These ones start at $39.99 and they are so silky smooth, which is pretty much the main thing I look for in bed sheets. I have a queen set of these on my bed now, and I'm loving them. There's honestly no better feeling than slipping into bed with a fresh set of high-quality sheets. It makes me feel like a Care Bear living on a cloud. 
Bearpaw Headband and Pop Top Hand Wear Set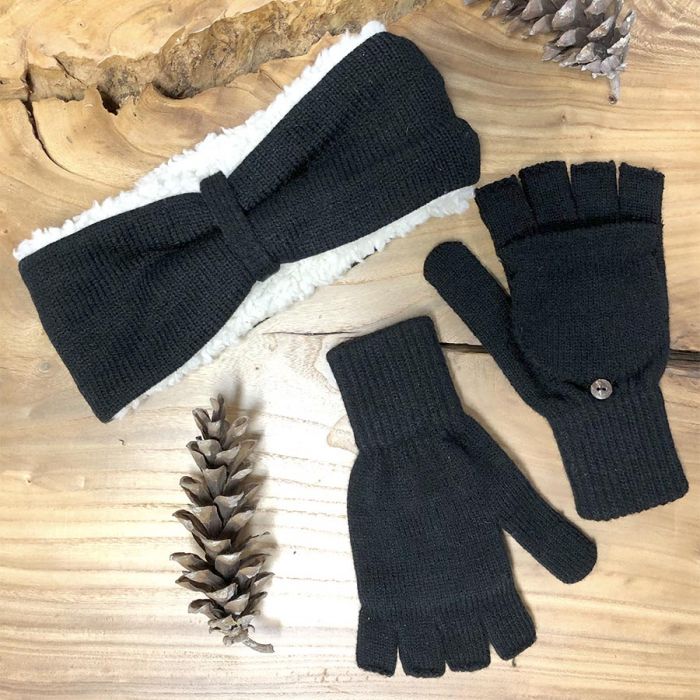 I'm from Boston, Massachusetts originally so I definitely know the importance of warm winter gear. When I was home in New England over the break a few weeks ago, I wore this Bearpaw set every single day. I got so many compliments on the headband, which I love because it kept my ears nice and warm with its faux sherpa lining, but it also kept my hairstyle fully intact and helped me avoid the dreaded "winter hat hair." And I'm obsessed with these two-in-one convertible gloves, because you can wear them as fingerless gloves for easy texting or turn them into mittens for extra warmth. These definitely are my go-to cold weather accessories this winter.