WANT/NEED: Breakfast in a box to satisfy your inner Ron Swanson, and more stuff you want to buy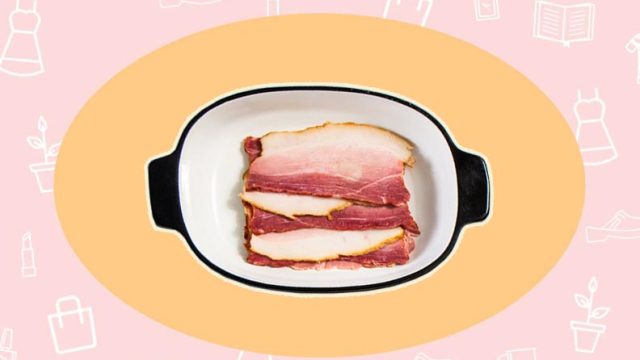 Welcome to Want/Need, a daily roundup of the things our Deputy Editor, Emily Popp, is currently coveting. It might be a pair of pink leather loafers that make her feel like she's got her s*#t together, or a pool float in the shape of an avocado (because she's not over the novelty pool float trend). Or maybe it's as random as, like, dryer sheets. Basically this is all the stuff she's obsessed with. Poppy's picks, if you will.
Cup Noodles Wrapping Paper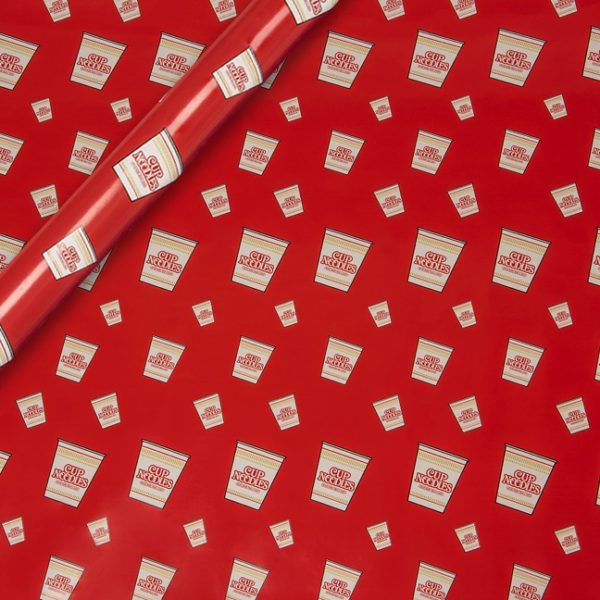 OK, this is hands down the best wrapping paper I've ever seen. I plan on wrapping all of my presents in this Cup Noodles paper. There literally could be nothing inside, and it still would be an amazing present. If you're like me and are a Cup Noodles fanatic, check out their other quirky goodies in their "Fan Store," like a Cup Noodles mug, beanie or sticker pack. All this Cup Noodles talk is making me want to eat some right now. Please excuse me while I heat up a delicious up, brb.
Sarah Chloe Pearl Hoop Earrings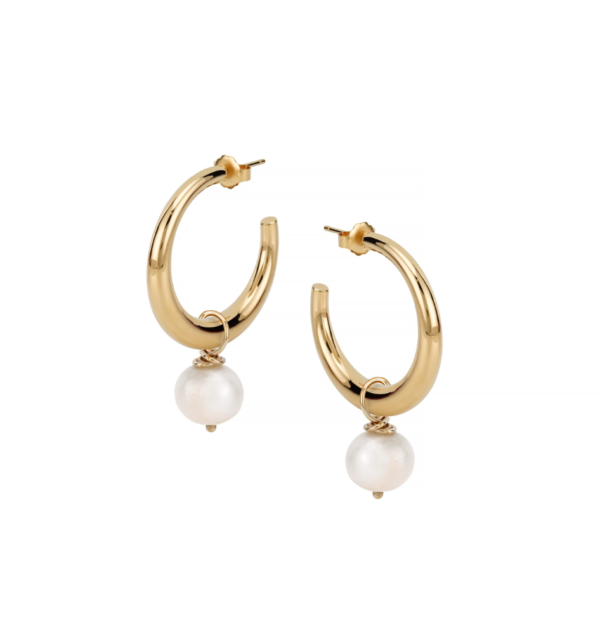 Sarah Chloe is one of my very favorite jewelry brands, and I get the most compliments whenever I wear any of their pieces. I have a gold plated initial necklace from years ago that I still wear, and whenever I do people always ask, "where did you get that necklace?" I absolutely love-love these earrings, and that is saying a lot because I can't wear earrings. I know, it's a tragedy! But this is the season for giving, not receiving, and I would give these to any of my earring-wearing girlfriends. They're absolutely exquisite, and here's the real clincher: the freshwater pearls can actually be removed for a versatile look that'll take you from the office to happy hour drinks. It's a gorgeous two-for-one deal, and I love a twofer. 
Porter Road Breakfast Box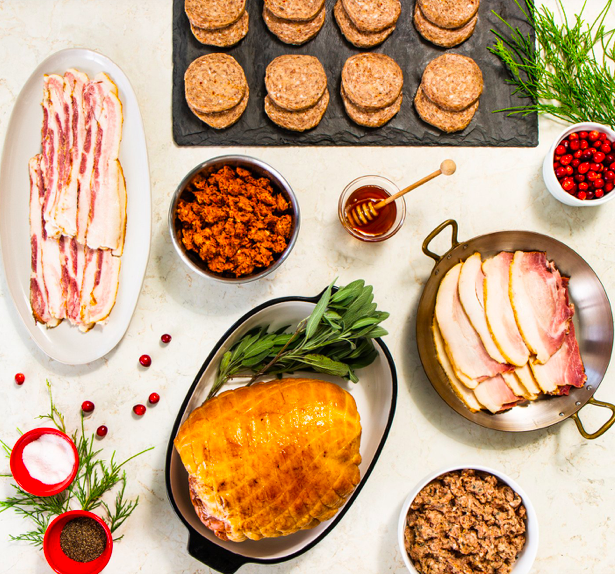 OK, so you've probably never seen me write about a meat product before, and that's because although I'm not a vegetarian, I'm not exactly a Ron Swanson-type. But, let me tell ya, even though I'm a green juice-drinkin' basic, this girl appreciates a sizzling piece of bacon. I also consider a hearty breakfast to be so luxurious, because I rarely take the time to make one. So that's why I'm very obsessed with this "Breakfast Box" from Porter Road, which I think makes a totally unique gift for the carnivore in your life. It comes with 2 pounds pork bacon, 1 pound ham bacon, 1 pound loose chorizo sausage, 1 pound loose country breakfast sausage, and 1 pound country breakfast patties. Ooo, that is a lot of meat bang for your buck! Basically all you need is a carton of eggs and you have a breakfast of champions fit for weeks on end. I definitely plan on giving this to my brother for every holiday and birthday from here on out, because whenever we were growing up my mom would ask, "How many pieces of bacon do you want?" And he'd say, "How many do you have?" And she'd say, "How many do you want?" And he'd reply, "Well…how many do you have?" Meaning he wanted every piece of bacon we had in the house. 
Little Woman Goods Sass Tablets Enamel Pin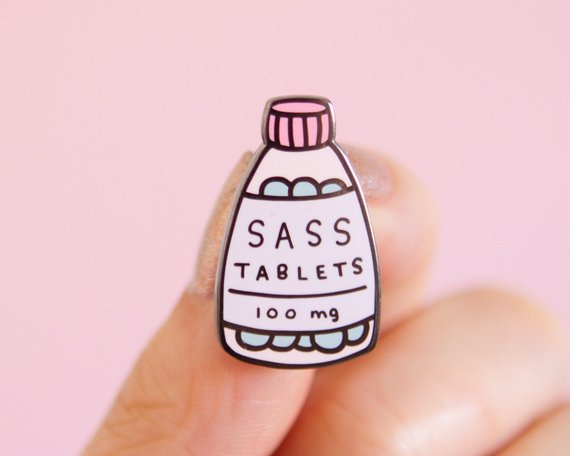 I would highly recommend checking out "Little Woman Goods" on Etsy. It's chock full of charming, empowering goodies, like this "Sass Tablets" pin for when you're feeling extra sassy. I definitely took my sass tablets today, btw. They also have loads more feminist gifts, like an iron-on patch that says "What I do is not up to you," or a bumper sticker in the shape of a uterus. Our office manager, Iris, told me about the shop and it's truly one of the most unique Etsy shops I've seen in a long time with some strikingly beautiful designs. If you're looking for an empowering present for your bestie, look no further than Little Woman Goods. 
Ferrero Rocher Grand Rocher Christmas Chocolates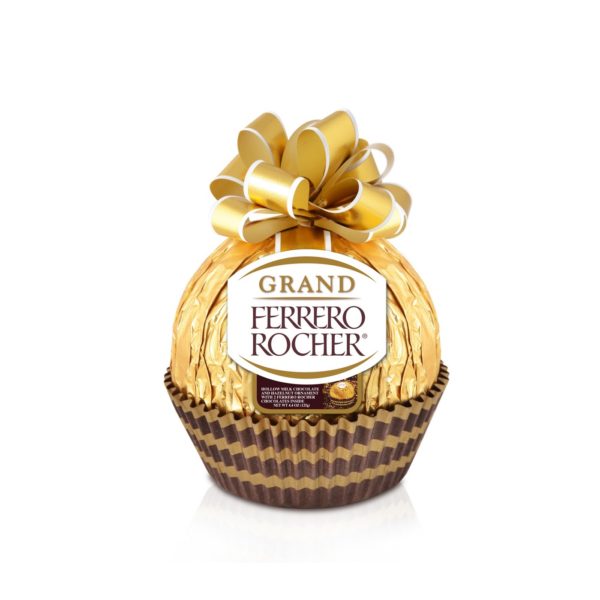 When I was a kid I used to save up my allowance so I could buy a pack of delicious Ferrero Rocher chocolates at the drugstore. To me at the time they were the height of luxury, and honestly, they still are. So I am having a serious case of childhood nostalgia over this GIANT Ferrer Rocher. It's made of hazelnut chocolate shell and has two chocolate balls inside of it. And it's only $5.49. This is the perfect stocking stuffer, IMO. 
KFC Fire Log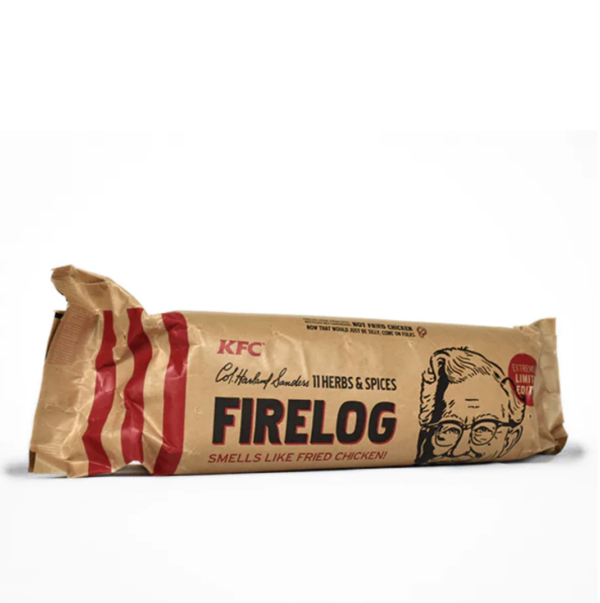 If you're not getting someone on your list this KFC fire log, then you're not doing the holidays right. KFC.com, believe it or not, is actually one of my favorite online destinations for holiday shopping. They are a one-stop-shop for finger lickin' good gift ideas. Case in point: this KFC 11 Herbs and Spices Fire Log, that smells like fried chicken. Seriously, it smells exactly like Kentucky Fried Chicken! Bonus: It's an "Enviro-Log," meaning it's environmentally-friendly and made from 100% recycled materials. I can't think of anything more festive than cozying up next to the fireplace, cup of spiked eggnog in hand, and enjoying the scent of fried chicken as it wafts through the air. It truly is the most wonderful time of the year.