WANT/NEED: Affordable airline tickets on a private jet (for mere mortals like myself), and more stuff you want to buy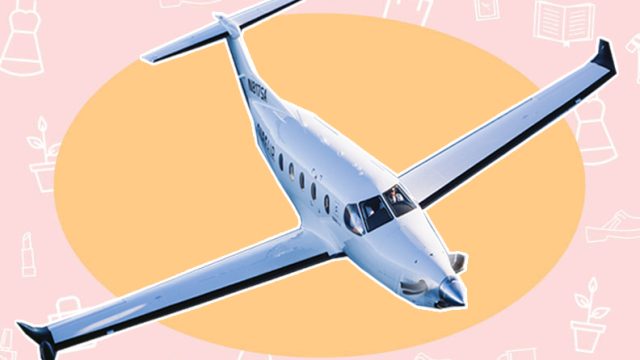 Welcome to Want/Need, a weekly roundup of the things our Deputy Editor, Emily Popp, is currently coveting. It might be a pair of pink leather loafers that make her feel like she's got her s*#t together, or a pool float in the shape of an avocado (because she's not over the novelty pool float trend). Or maybe it's as random as, like, dryer sheets. Basically this is all the stuff she's obsessed with. Poppy's picks, if you will.
Surf Air Express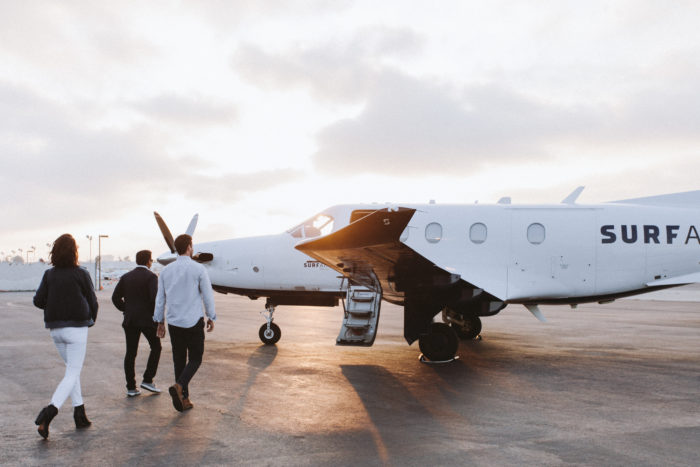 I know what you're thinking: Emily, did you put a private jet in this week's Want/Need column? Are you Gwyneth Paltrow? But hear me out. The other week I had the incredible opportunity to fly from Los Angeles to Palm Springs on a private jet through Surf Air Express, which I figured would cost gallons of dollars… but it's actually about as affordable as flying commercial. One-way flights start at $445, which is basically what it cost me to fly coach to Boston over the holidays. Surf Air Express flies all over California, and it has a membership opportunity, but if you can't afford the annual $2,500 membership, you can still book a flight as a non-member. So what was the actual experience like? Well, I flew to Palm Springs for a spa day at the Korakia Penisone Hotel, which is absolutely exquisite and one of those "bucket list" hotels unlike no other.
Bottom line? It was probably one of the most luxurious afternoons of my life. And what made the trip so dang fabulous was the convenience of it all. I just walked right up to the Hawthorne Municipal Airport in Los Angeles, no TSA, no checking bags, just waltzed right onto the private jet. It took all of the waiting and the headache out of flying. As for the plane itself? It's a small propeller plane, but despite its size it still had a luxe feel with plenty of leg room to stretch out and enjoy the incredible views. I basically felt like Cardi B in that viral Instagram video where she's eating crab legs on a private jet. I didn't eat crab legs, but the point is I felt like a celebrity. But trust, I'm not. I'm just a coach-flying girl who discovered that you can in fact fly private without selling all your personal possessions. 
Recess Sparkling Water with Hemp Extract and Adaptogens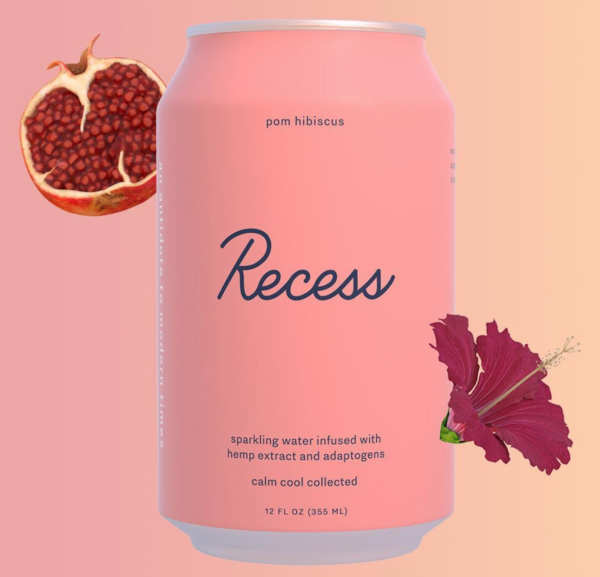 I've been hearing about this CBD drink brand Recess for months now and I've been dying to try them. My friend recommended it to me a while ago, and then HG did a taste test back in November—but I was out of the office that day! It actually ended up making our list of the best HG-approved CBD products of 2018, and it made me want to try it all the more. And then finally (cue heavenly harp music) I was able to get my hands on a sampler pack and try this stuff for myself. And, y'all. It is worth the hype. I've tried a lot of CBD products that didn't really do much of anything, but I could tell this "worked" in the sense that I felt a sort of all-over-body calm and I slept really well that night.
The taste is also fabulous; my favorite flavor is the Pom Hibiscus (a fusion of my two favorite flavors, pomegranate and hibiscus flower), but the Blackberry Chai and Peach Ginger are also super tasty. The Recess drinks are billed as sparkling water, but to me it's less La Croix and more like a healthy, non-alcoholic cocktail. It felt too flavorful to have "water" in the title, but it is very low cal and low in sugar (25 grams of calories and 5 grams of sugar in the Pom Hibiscus). It's also not exactly priced like sparkling water (a 6-pack is $30), but that makes sense because it's packed to the gills with fancy AF ingredients, and quality CBD products 'aint cheap. I drank it at 4 p.m. when I was in one of those slumps where it felt like my brain was filled with jellybeans. It helped me reset, rebalance and regain my concentration. Whenever I find a CBD product that actually works I like to shout it from the rooftops, because there are so many bogus ones out there. These babies, however, are the real deal.
MOO x Kate Moross Journals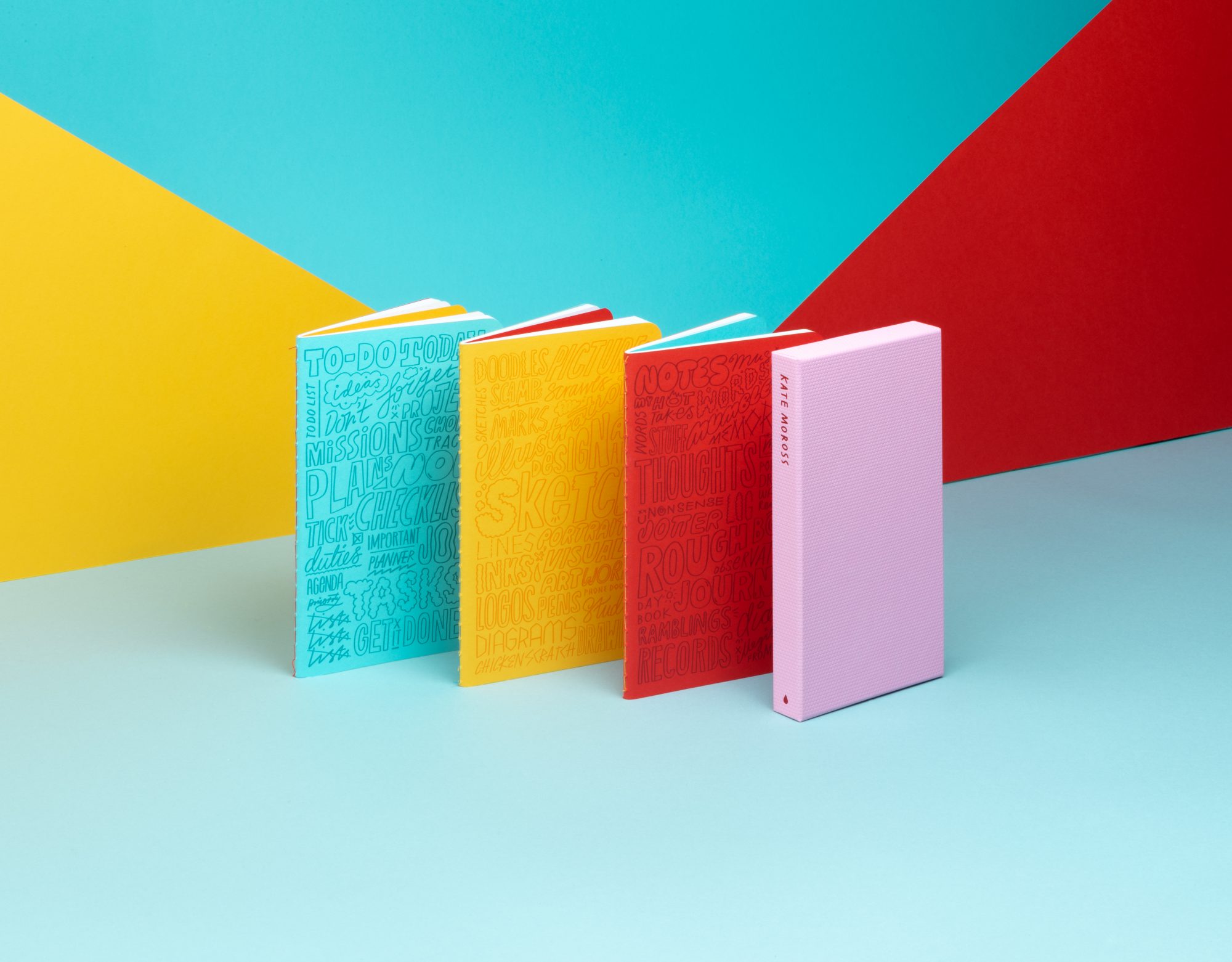 I'm a "pen and paper" kind of girl. I send snail mail, I write all my appointments down in an agenda, and have Post-it notes plastered throughout my apartment. So needless to say I'm always buying notebooks in bulk. I go through 'em like bottled water. I am absolutely obsessed with this MOO x Kate Moross journal trio. The set comes with a blue journal with checked boxes for to-do lists, a red one with lined pages for writing, and a yellow one with blank pages for doodles and drawings, and a bubblegum pink slipcase to store them. I love that each notebook has a different purpose, because there are so many different types of journaling you can do. This set is so freaking cute and it just puts me in a good mood.
Nintendo Switch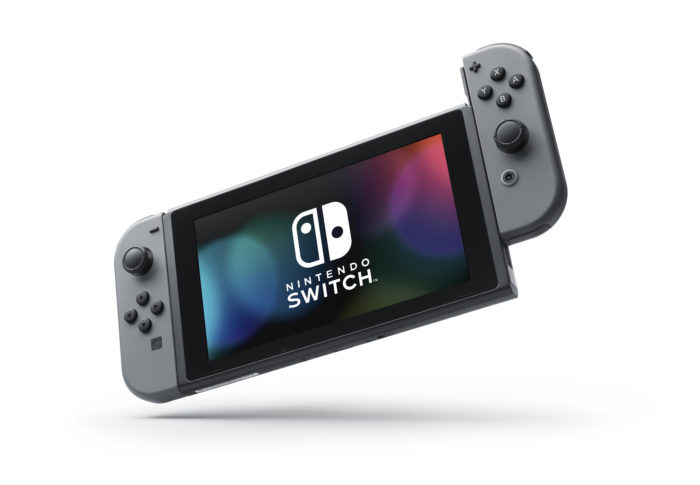 I'm actually shocking myself with this one. I am so far from a "gamer" it hurts. But I like including stuff in Want/Need every now and then that's totally out of left field for me. I am TERRIBLE at video games, and growing up I used to cry when I tried to play Donkey Kong with my brother because I always died within seconds. I had heard of a "Switch" before, but never really knew what it was other than some type of gaming system. But then I kept hearing about it and I thought, this is actually a really amazing Valentine's Day gift. A Switch is the perfect splurge gift for the special gaming guy or girl in your life. It's actually a really cute couple gift, because you can play it together at home or while on a picnic at the park. And even though it's not "on brand" for me, I can always branch out. I'm actually pretty skilled at Mario Kart (the only game I liked playing as a kid), and I heard that Super Mario Party for Nintendo Switch is supposed to be really fun. So who knows, maybe my 30s is when I'll become a gaming girl?
See's Candies Pretty Petals Box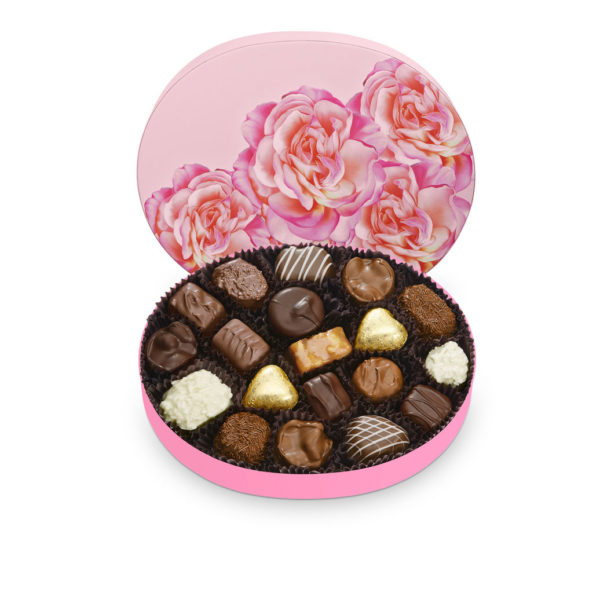 I love this Pretty Petals box from See's, because it's more original than your typical red heart-shaped chocolate box. Here at HG, February 13th is one of our favorite holidays for obvious reasons: it's all about celebrating friendships. This is the perfect thing to take to a Galentine's Day party or to gift to your bestie. Because what better way to say "Thank you for talking me out of sending that tipsy text to an ex" better than a big 'ole box of chocolate? 
Beach Bunny Paige Legging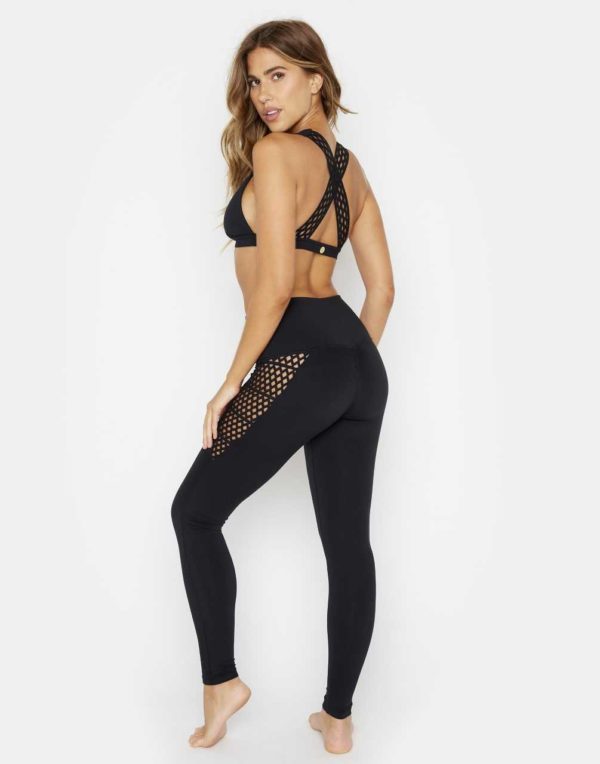 I love Beach Bunny for their swimwear, but they also have killer activewear. I've seen this "peekaboo" legging style a lot all over Insta, and at first I thought, nah, I can't pull that off that sexy look. Maybe in my early 20s. And then I stopped my negativity dead in its tracks and thought, why the heck can't I pull that off? Turns out, in fact, I can pull 'em off and I feel dang good in them. They're super comfortable and flattering. I was worried at first that you might be able to see your underwear though the paneling on the side, because it goes fairly high up—but you can't at all. I can even wear my full coverage undies in these. These leggings make me feel so good and I'm really glad that I didn't let my initial negative thoughts get in the way of looking stylish AF. 
Skullcandy Method Wireless Sport Earbud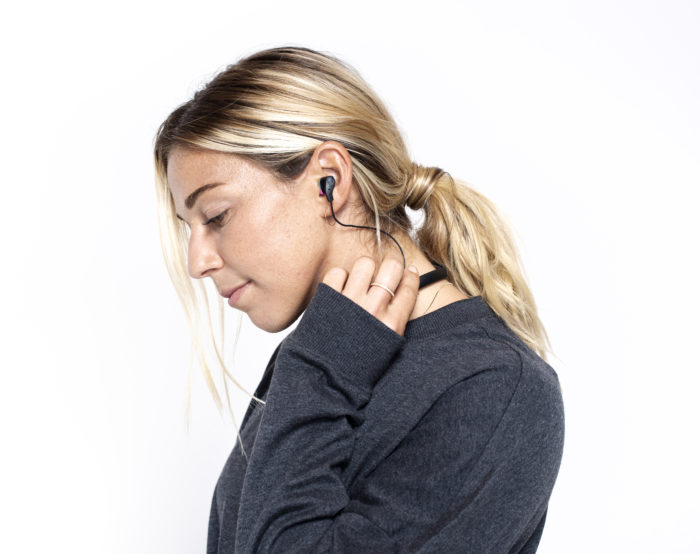 OK this sounds weird, but I have very tiny eardrums. And whenever I go running, my earbuds are always falling out of my ears! I'm constantly putting them back in and it's freaking annoying. I love the idea of these wireless Bluetooth "fitness" earbuds that have an around-the-neck collar. I'm one of those people who CANNOT work out without listening to music. I don't know how people do it without music. I can't just listen to the sound of my heavy breathing, it's so distracting. So I definitely need a pair of fitness headphones. They also make a great Valentine's Day prezzie for your gym buff lover. 
Ostrichpillow Light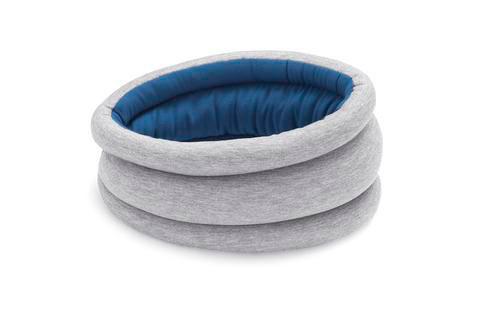 Do you guys remember the original Ostrichpillow? It's a giant pillow for your head (with a hole for your mouth) so you can sleep on the go wherever you are. It's basically a cocoon for your face, and it went viral because it's pretty crazy-looking. I always loved the concept of it, but I'll admit I never had the guts to actually use it in public. But I do appreciate a product that is built for napping. Now they've come out with the more accessible, less intense version of their original pillow. It's aptly named Ostrichpillow Light, and it only covers part of your face, not your entire head. It's meant to be worn as an eye mask or as neck support, and yes, it's still pretty big and funny looking, but it's also genius. Give this to your Valentine who loves to nap and who isn't afraid to let his/her freak flag fly. Go on, slip this baby on, let the world melt away around you and catch some zzzs on the go. 
UrbanStems The Rex with Air Plant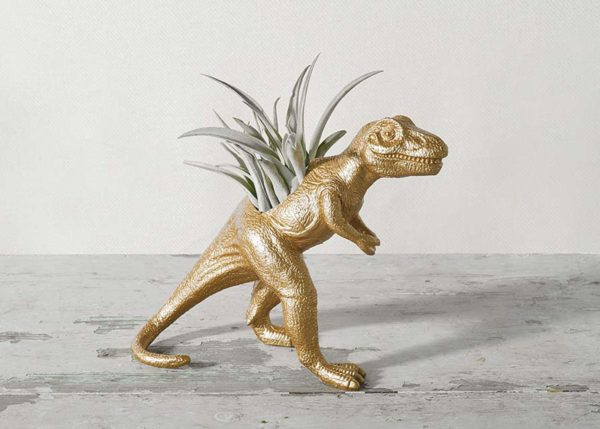 Um, how cute is this golden dinosaur planter?? I love to give my succulents a little extra flair, and this adorable T-Rex air planter is oh-so delightfully quirky.