Bryan Cranston brought back Walter White from 'Breaking Bad' on 'SNL' and it was pure magic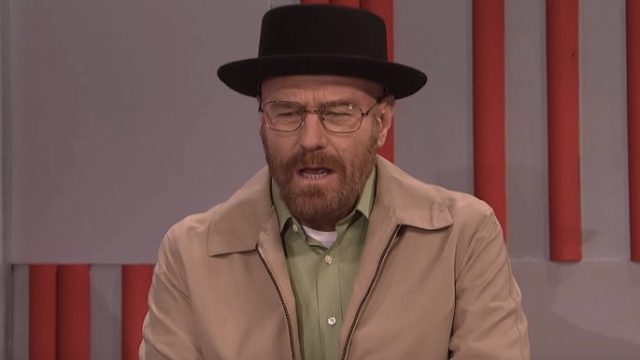 It doesn't look like Saturday Night Live plans on going easy on Donald Trump any time soon (and with the material he's providing, who can blame them?) This week's opening sketch was all about Trump's increasingly problematic picks for cabinet positions. But who was the person picked to head the all-important Drug Enforcement Agency? Why, Walter White of Breaking Bad fame, of course.
Bryan Cranston reprised his iconic role to explain why Walter White would be the ideal choice for the position, despite the fact that he's a major-league meth dealer. Cranston played the part to perfection, insisting that he and Trump believe it is time to "make America cook again." Wearing a black hat and his trademark glasses, Cranston cheerfully told viewers he was ready to handle the DEA. Ya know, given his extensive experience with the agency already.
Other highlights from the sketch: Kate McKinnon brought back her role as Kellyanne Conway, Trump's campaign manager who has been tasked with defending these increasingly baffling cabinet nominations. The skit went so far as to address Trump's choice of Environmental Protection Agency chief, Oklahoma Attorney General Scott Pruitt. Pruitt has been a vocal supporter of fossil fuels, in direct opposition to the traditional stance of the agency. Clearly, SNL is gearing up for the long haul when it comes to Trump, just like they do every other president.
But the real star of the skit was Cranston, who provided that perfect mix of menace and charm that made Walter White such an iconic character. Showing wholehearted support for Trump's style, Cranston professed to like the president-elect's attitude: "He acts first, and asks questions later." Trump's ideas towards building a wall between America and Mexico also appealed to the character of White, who commented on "less competition for the rest of us."
https://www.youtube.com/watch?v=u-w5wbu7GBE?feature=oembed
It was a virtuoso cold opening for Saturday Night Live, and a sharp reminder of the rare talents possessed by Bryan Cranston. Even this short bit shows why Breaking Bad was such a tremendous critical and commercial success. And when it comes to the often dangerous game of politics, you can always rely on a man like Walter White.