The Walmart Yodeling Boy performed at Coachella, and this is as good as it's ever going to get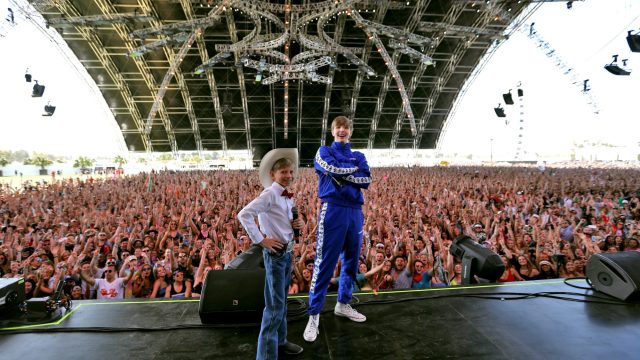 Brace yourselves. The Walmart yodeling boy, AKA Mason Ramsey or Lil Hank Williams, is taking his stardom to a whole new level. We thought he might have peaked when he made an appearance on Ellen, but, boy, we were wrong, because Instagram's miniature country music star performed at COACHELLA yesterday. Yeah, that's right. Coachella. What a wild time to be alive.
This is how it happened. First, as you know, Ramsey went viral after the world caught a glimpse of him yodeling his heart out in a Illinois Walmart late last month. Americans went wild over his old school country outfit and adorable neck-bobbing. There have been countless remixes, parody videos, and, of course, his aforementioned appearance on Ellen. He played a concert for the show and got a $15,000 college scholarship. Wow.
Back to how he ended up at Coachella. A week before Ramsey appeared on Ellen, an up-and-coming American DJ named Whethan started hearing that he resembled the yodeling sensation. Last Tuesday, Whethan tweeted, "stop saying I look like the walmart yodel kid."
Walmart responded, "We think you're both great!" Whethan Instagrammed the exchange and said, "thank you walmart."
https://www.instagram.com/p/BhMnrPOgwYg
We will admit there is a resemblance. Here's Whethan:
https://www.instagram.com/p/BfHSfLxAf0D
And here's Lil Hank:
Anyway, fast forward to yesterday. We started seeing rumors online that Ramsey might be performing at Coachella, and, later, Ramsey confirmed it himself on Twitter. Shortly after, Whethan brought him out on stage with him, and the crowd went WILD.
https://twitter.com/udfredirect/status/984931362879787008
Holy marckerel.
How did the Whethan manage that? Well, I guess one of his friend's (Eric Curtin) just DM-ed Lil Hank and the rest is history. Turtle tweeted:
"after the yodel kid followed me i dmed him to try and get him to come out as whethans guest at coachella. and it happened. ur welcome everyone. i love u mason and i love the internet".
Same, man.
Ramsey shared a photo of the two on stage yesterday with the caption, "shout out to @whethanmusic for bringing me out at @coachella. What a dream! ?: @takkamihagi". So cute.
Bieber was there, too! First, we see Bieber just loving the performance, and, after the performance, he meets Ramsey and tells him, "I'm so proud of you. So proud of you. You did so awesome." It's pretty heart-warming.
We genuinely believe that Ramsey is a talented singer, and we hope to see more of him. Congratulations on your Coachella appearance, Lil Hank! But, now we're wondering, is he going to make it to weekend two or will he have to go to school?