Why a tiny detail has me convinced this major "Walking Dead" character is next to die
Spoilers from Sunday night's midseason premiere of The Walking Dead, "Rock in the Road," lie ahead.
Sorry, The Walking Dead fans, but I'm calling it — Sasha, played by the fantastic Sonequa Martin-Green, will die at the end of Season 7.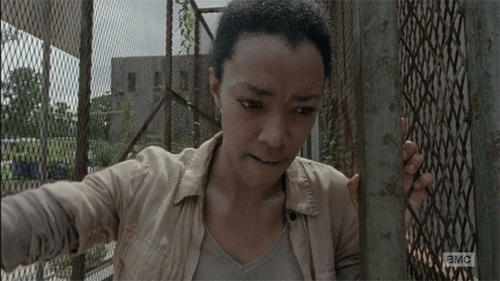 When we all heard that Green had booked a pivotal, potentially career-changing role as the lead on CBS All Access' Star Trek: Discovery, we were thrilled for her — though of course, also hopeful that she'd find a way to continue to film Walking Dead in Atlanta during that series' offseason.
"I can't say anything," Martin-Green told EW at the time, with showrunner Scott M. Gimple adding that the actress "can do anything."
"I've seen her battle a horde of walkers this year while simultaneously battling a stomach flu that would have had most people crying in the dirt," he continued. "She can fulfill the duties of a Lieutenant Commander on a Constitution-class starship whilst battling walkers, Saviors, and whatever gets in Sasha's way. We've had to juggle before."
However, a very simple detail from Sunday night's midseason premiere — a detail that has been in the works for a while, but became abundantly clear during "Rock in the Road" — made it pretty clear to me that Sasha is toast. And it all has to do with that damn dynamite.
If this were any other season, it would have been Sasha recklessly saving the group with those dynamite sticks while Christian Serratos' Rosita looked on. But in recent episodes, both of their roles in the group have shifted. Rosita has taken on the role of the reckless ammunitions expert with PTSD and an attitude problem, while Sasha has seemingly found peace and focused her attention on helping others — like Maggie — survive.
When Sasha, who worked as a firefighter pre-apocalypse, joined the group all the way back in Season 3, she quickly established herself as a valuable member of Rick's team due to her skill with guns, ammunition, and pretty much all things incredibly lethal. Her aforementioned (and understandable) struggle with PTSD after the deaths of her brother and boyfriend occasionally made Sasha a liability to the group, but her competence and her sincere love for them always overshadowed her gnawing doubt that happiness post-apocalypse was possible.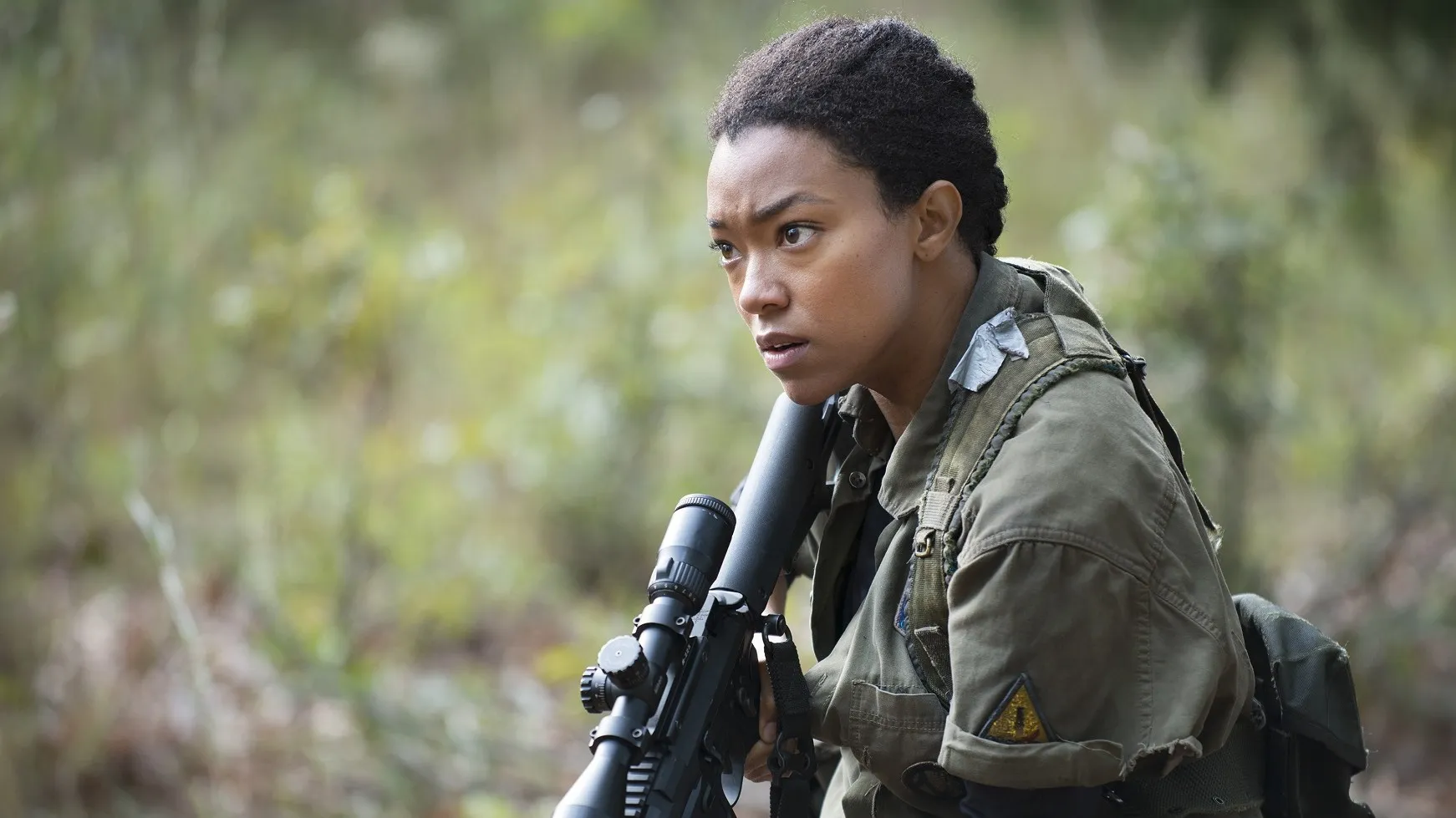 Later, when Rosita's boyfriend Abraham fell for Sasha — during a time when, let's be honest, Rosita's role in the group and on the series lacked clear definition — I seriously wondered whether the show might pull another "Glenn is back!" style cop-out and have Rosita meet the end of Negan's bat instead of a major character.
Obviously that didn't happen, and instead Sasha lost one of her most valuable scene parters when Michael Cudlitz's Abraham left the series, having also lost Chad Coleman's Tyreese and Lawrence Gilliard Jr.'s Bob two years prior. And in a pretty surprising move, the show has primarily mourned Abraham through Rosita, whose screen time over the past seven episodes has noticeably grown exponentially as Sasha's has decreased.
Rosita, for example, was the one commissioning secret bullets and plotting to kill Negan in the first half of Season 7 after Abraham's death — a plot line that had "Sasha Season 5" written all over it — and now she's the one saving butts with her explosive know-how (seriously, when did this happen?) and overall playing the part of pissed off warrior woman badass.
Meanwhile, Sasha is up at Hilltop; training a rag-tag group of rookie soldiers and making sure Maggie is taking those pre-natal gummies every day at noon.
Obviously, characters on the series are allowed to grow — remember when Michonne hated other people? Remember when Carol liked them? — but this doesn't seem like that, to me. This seems like The Walking Dead is setting the stage for a tragic exit for a character who has finally found something to live for, and giving a former B-character (or C-character, really) a chance to step out from the background and carry her own dramatic material.
Plus, as Comicbook.com earlier pointed out, Sasha — who doesn't exist in Robert Kirkman's comic books — seems like the perfect character to take on a tragic fate suffered by a comics character named Holly in the Season 7 finale.
In the books, Holly is the woman Abraham leaves Rosita for, and after he is murdered, she joins Rick and his crew on their final attack on Negan's Sanctuary. She drives a car through the Sanctuary's gate and assumes it (or gunfire) will instantly kill her, but Negan kidnaps her instead, turns her into a walker, and sends her back to Rick to A) traumatize him further and B) hopefully get more members of Rick's group killed.
Now of course this fate could also be suffered by Rosita, but Serratos doesn't have the leading role on a Star Trek show next year. Plus, it's undeniable that Rosita currently has a whole lot more going on with other characters in the gang (like Eugene, Tara, and even Father Gabriel) than Sasha, who has basically been Maggie's Hilltop Plus One since the Season 7 premiere.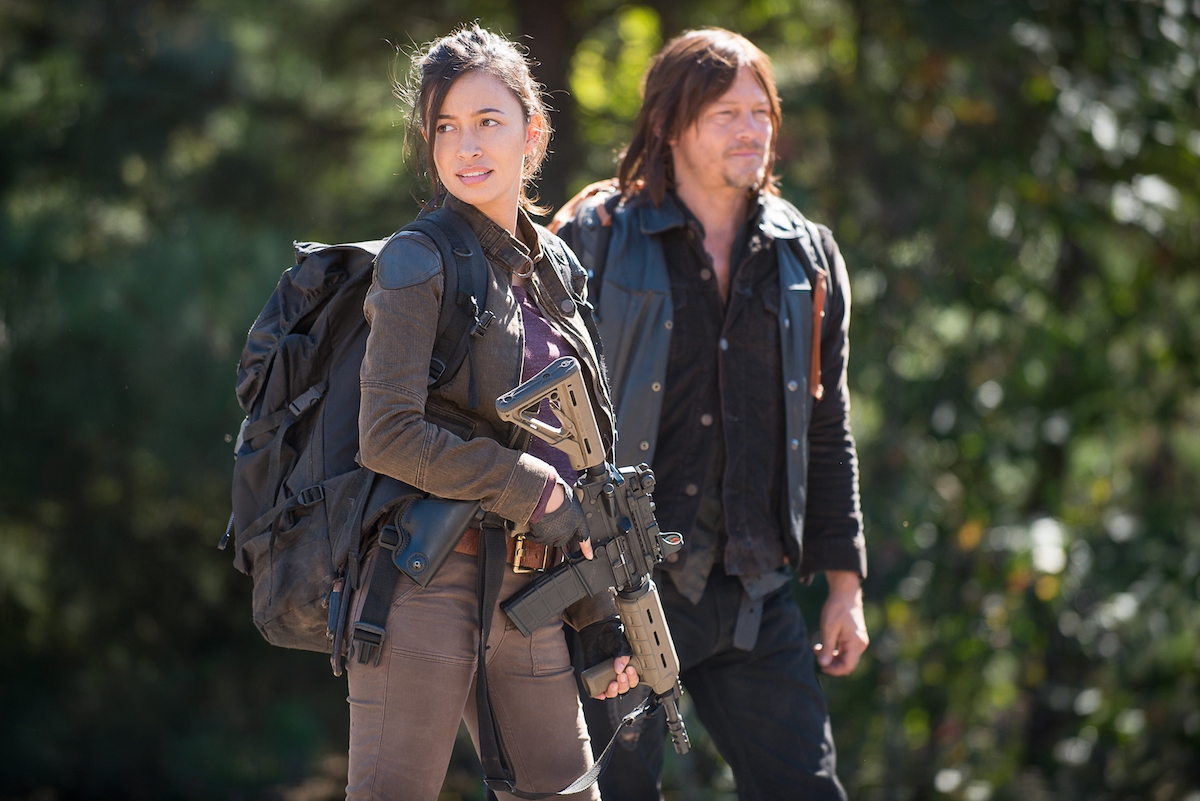 So, yeah — this lethal combination of isolating Sasha from the rest of the group, taking away her status as its tactical ammunitions expert, and making her seem kinda-sorta happy has me fully convinced. Martin-Green's time on Walking Dead is limited, but at least she has a potentially even more badass role to step into once she says her final goodbye.