Men on Wall Street reportedly consider working with women a "risk" because of the #MeToo movement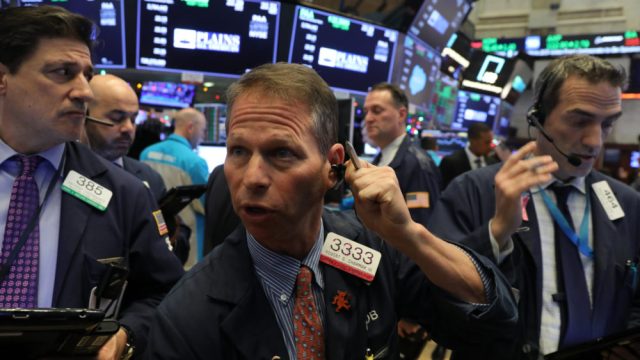 For over a year now, the #MeToo movement has been exposing the pervasive daily culture of both sexual harassment and assault, and there's evidence to show that society is changing—for the better. However, a new study also shows that the movement has led some men to avoid women altogether—and it's harming women's careers.
In an article published today, December 3rd, Bloomberg reporters Gillian Tan and Katia Porzecanski spoke to more than 30 senior male executives in the finance industry who admitted they worry about being falsely accused of sexual harassment. Some of the men now decline to meet with female employees unsupervised, and one anonymous wealth adviser even told Bloomberg that simply hiring women now posed an "unknown risk."
This means that women on Wall Street, who are already in the minority, are missing out on mentorships and after-hours bonding. Bloomberg points out that 85% of executives and 74% of senior managers in finance are men, so women have little options for mentors who are also women. Karen Elinski, president of the Financial Women's Association and a senior vice president at Wells Fargo & Co., stressed the way this affects women in an interview with Bloomberg.
"Women are grasping for ideas on how to deal with it, because it is affecting our careers," Elinski told Bloomberg. "It's a real loss."
false
Unfortunately, this attitude isn't just a problem in finance. In a Pew Research Center survey conducted between February 26th and March 11th, 51% of respondents said that #MeToo would make it harder for men to interact with women at work. And in January, a joint SurveyMonkey and Lean In survey found that almost half of all male managers were uncomfortable engaging in work activities with women.
If men are concerned about sexual harassment accusations, the answer is not to steer clear of their female colleagues…it's simply to be respectful and professional, and to treat women like human beings (which should be the default anyway). As one unnamed investment adviser said: "Just try not to be an asshole."
Hear, hear.