This lady breaking it down in a Waffle House parking lot is giving us new life goals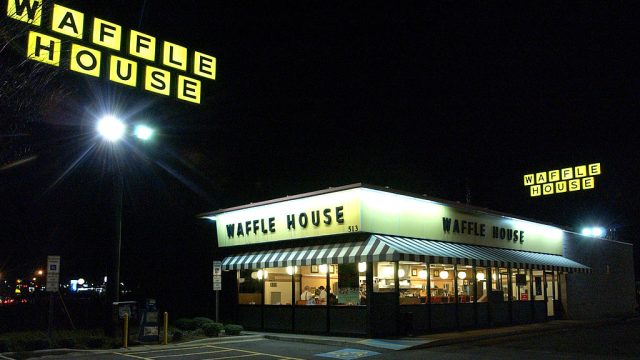 Who hasn't had the indescribable urge to stop everything and start dancing, no matter where you are?
Because there's at least one lady among us who did just that. Furthermore, her unapologetic dance routine is giving us LIFE.
The now-viral Waffle House dancing queen pulled her car into the nearest Waffle House, found a spot in the parking lot, and got out. There, she proceeded to run through an impressive roster of dance moves. Friends, she gives ONE HUNDRED AND TEN PERCENT, and we should all admire her blatant disregard for naysayers of public dance routines.
Some people inside saw the dancer breaking it down in the Waffle House parking lot, then quickly pulled their phones out to catch it on tape.
They recorded the whole minute-plus performance. And now the video is going viral.
https://www.youtube.com/watch?v=IUeV7exZIoQ?start=74&feature=oembed
"Whatever she got, I want it," one of the people watching says.
"She is killing it!" says another.
"She wants to become a YouTube sensation."
"The Waffle House queen!"
The Waffle House queen indeed. Now, we can only speculate what caused her to get out of the car and relinquish such killer dance fire. Did she win the lottery? Score tickets to an upcoming Lady Gaga concert? Or maybe she snagged some hottie's digits at the Starbucks down the street?
No matter what inspired her to bust a move, this woman is inspiration for all of us to dance like nobody's watching.