11 Instagram Captions That Are Perfect for Your "I Voted" Selfie
Encourage others to get out there and vote by sharing these inspiring quotes with your feed.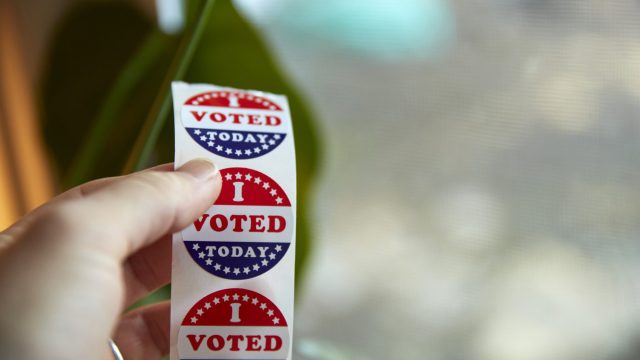 Despite today, November 3rd, technically being Election Day, nearly 100 million people have already voted, and 16 states have already seen more than half of their registered voters cast ballots in advance. That's more than two-thirds of all ballots cast in 2016—meaning that this year, people are more passionate than ever about showing up to make their voices heard.
Whether you voted by mail, dropped your absentee ballot off at polling place, or decided to vote in person, you should be proud that you exercised your right to vote and completed your civic duty. One easy way you can encourage others to do the same is to post on social media— showing off your "I Voted" sticker, of course. That's why we rounded up some inspiring voting quotes that you can use as captions for your Instagram photos. Keep the momentum going with these 11 quotes that are perfect fits for #ElectionDay2020 (making sure to cite them properly), and if you haven't already, don't forget to vote.
Election Day Instagram Captions:
1. "When you see something that isn't right, you must say something. You must do something."
2. "Fight for the things you care about, but do it in a way that will lead others to join you."
3. "The vote is precious. It is almost sacred. It's the most powerful non-violent tool we have in a democratic society and we've got to use it."
4. The is not a moment. It's the movement.
5. 'Not voting is not a protest. It's a surrender.
6. Real, enduring change happens one step at a time.
7. Someone struggled for your right to vote. Use it.
8. To have a democracy, you have to want one.
9. The best way to protect the future it to create it.
10. Don't ever underestimate the importance you can have because history has shown us that courage can be contagious and hope can take on a life of its own.
11. We are the builders of a world that has never been built before.