This is the suicide prevention song from the 2017 MTV VMAs that everyone is talking about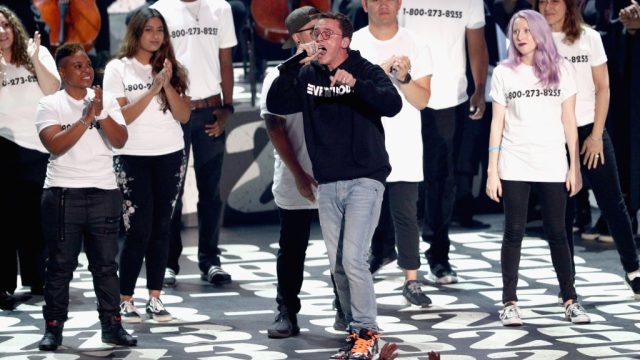 In these increasingly divisive times for Americans, using whatever platform you have to spread messages of love, unity, and advocacy is a must. During the 2017 MTV Video Music Awards, rapper Logic performed his song "1-800-273-8255." The title of the song is the phone number to the National Suicide Prevention Hotline.
Logic's performance of his suicide awareness anthem was beautiful and left us speechless.
Kesha introduced his powerful performance by saying, "The truth is what matters, the truth is that none of us are alone. We all have a vulnerable side. No matter how dark it may seem, there is an undeniable truth and strength in the fact that you are not alone."
Logic was joined onstage with his musical collaborators, Alessia Cara and Khalid, plus several dozen actual suicide survivors wearing shirts bearing the hotline's phone number. In the audience, Logic's wife was nearly in tears.
At the end of the performance, Logic used the opportunity to speak directly from his heart.
"Thank you for giving me a platform to talk about something mainstream media doesn't want to talk about. Mental health, anxiety, suicide, depression..." he told the audience.
Soon, the rousing speech became more than just about mental health:
"I believe that we are all born equal, but we are not treated equally. We must fight for the equality of every man, woman, and child, regardless of race, religion, color, creed and sexual orientation."
We are grateful for artists like Logic, you can see his whole performance below — including the speech at the end.
If you are thinking or have thought about suicide, if you are worried about someone you know, or if you just need someone to talk to, call the National Suicide Prevention Lifeline at 1-800-273-8255 or chat with their counselors online here. You can see more of their services here. All services are free and available 24/7.