Vivienne Westwood, epic designer, just proved she's also an epic runway model
We won't sugar coat it: Fashion Week is exhausting. And for the fashion designers behind it all, well, there's probably not even a word in any language to describe how tiring it can all be. From sketching to designing and the sewing, editing, location scouting, castings, model fittings, rehearsals, and about a million things in between, a designer is a hero for making through the show fully conscious.
But Vivienne Westwood is no average designer. She's the Wonder Woman of designers. Because after designing and executing yet another phenomenal collection, the 75-year-old designer strapped on her heels, hopped in the HAMU chair and strutted down the runway as one of her own models!
Oh, and did she know how to strut her stuff on the catwalk. Of course, that can't come as a huge surprise, considering the veteran fashion designer is one of the most sought-after in the biz. The British fashion designer, famous for her often off-beat, quirky, energetic designs, has always been a lovable designer through and through.
And her commitment to her collections and having fun in her shows is a classic example of a work hard, play hard environment.
In her usual fun-meets-funky manner, this proved one of Westwood's most eccentric showings to date. Models had trash in their hair. The makeup and colored hair extensions were zany. The punk influence was over-the-top. There was this hair piece. And best of all, there was a dog on the runway!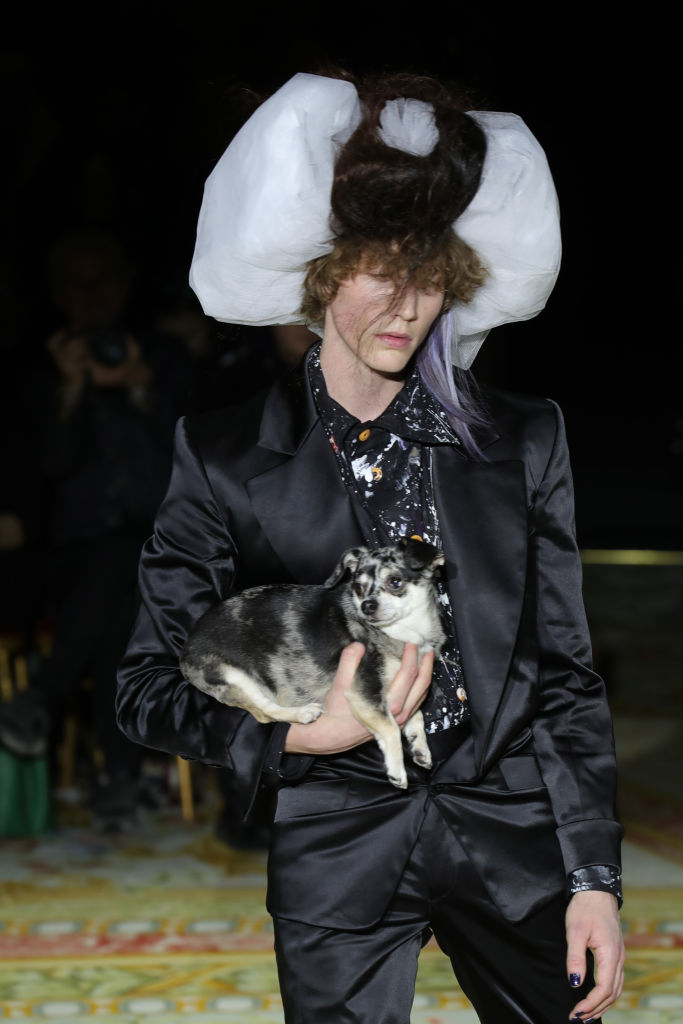 All in all, we've got one word for you, Vivienne: Bravo!