Under-10k weddings: A $900 YouTube wedding planned in less than a week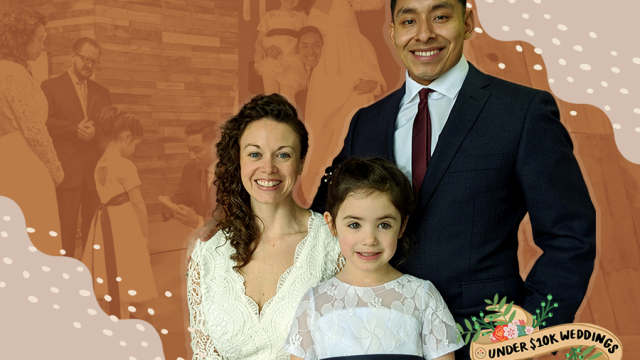 The average cost of an American wedding is more than $30,000. For many of us, that's an impossible sum, overshadowing what should be one of the happiest times in our lives. But it doesn't have to be that way. Under-$10k Weddings celebrates beautiful, affordable weddings, from city hall ceremonies to Vegas elopements—proving that it's possible to have the wedding of your dreams on a budget.
When Jodie McClain-Bohner met her husband-to-be, Tim Bohner, they were both going to the same YMCA where Tim was a personal trainer. Jodie, who was a wellness advisor but studying to be a personal trainer at the time, asked for Tim's help for her upcoming exams, and the rest was history.
When they finally decided to get married, McClain-Bohner and Bohnner's initial plan wasn't to have a virtual wedding wasn't the initial plan. Instead, like many couples who had plans to get married during the coronavirus (COVID-19) pandemic, they had to rethink their original ceremony and reception as public gatherings became restricted.
"Our wedding and reception were both going to take place at our church with a rustic theme; we were keeping it simple," McClain-Bohner tells HelloGiggles. "We invited 150 people and around 110 were planning on coming. The ceremony was the most important part to me, but I also wanted to have a very laid-back and fun reception after."
The couple was planning on having a reception with an appetizer buffet, a photo booth, dances, speeches, and a cake-cutting ceremony. After that, the newly married pair was to head down to a beach in Florida for their honeymoon.
"The most important thing for me was to have my daughter be a part of the ceremony and get to witness our union," McClain-Bohner says. "My husband, Tim, absolutely had to have all his closest friends stand up with him."
In mid-March, when President Trump announced that events could no longer exceed ten people, McClain-Bohner and her partner decided less than a week before their wedding to pivot the ceremony to a virtual affair. With nine guests attending the event, they were able to still have their ceremony at the church they wanted originally. Other guests were able to see the event via YouTube. HelloGiggles talked to McClain-Bohner about the experience and how the couple still managed to make their big day special. This is what she had to say, in her own words.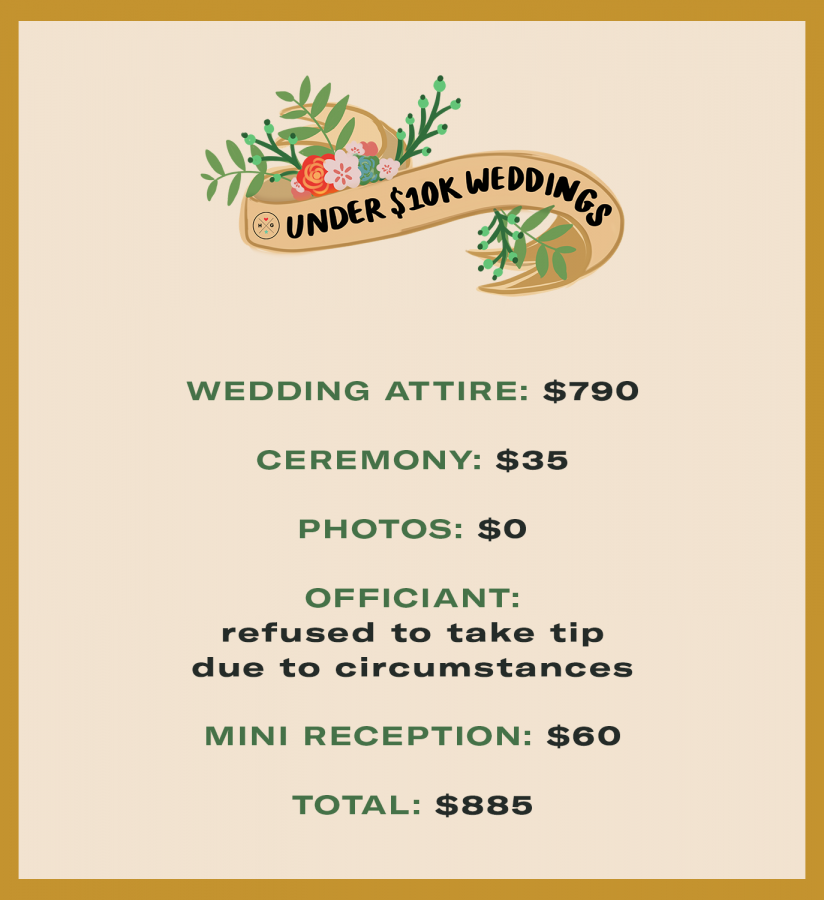 What it was like to plan our virtual wedding
We had to make the decision [to have a virtual wedding] on that Monday evening prior to our wedding on Saturday, March 21st; however, the conversation to potentially postpone started a week prior. First, it was announced that events should be 250 people or fewer. We were fine, as we only had a little over 100 people coming. Things changed quickly and suddenly; it was no more than 50 people allowed at an event. We contacted our church and they said it would be fine to still have our event as long as we sanitized everything afterward.
Next, we got the news that [my husband's] brother would not be able to come due to health concerns. Devastated at the thought of him not being there, we still held onto the hope that we could have the wedding on Saturday. Then, the governor of Indiana announced that events needed to be ten people or fewer. It was a heartbreaking decision [to rethink our original plans], followed by tears, a lot of texts to our guests, and then a sense of relief. The news of the coronavirus had been increasing daily and the uncertainty around our event and honeymoon was becoming too stressful. Even though it was so sad to see all that planning get derailed, there was a sense of calm that a decision had been made.
It took a few more days for us to have a real conversation about going forward with our marriage ceremony. The disappointment was like a wet blanket over our house. At first, we were just going to have a casual ceremony and save wearing our wedding attire for when we could have the full event.But as conversations went on, we decided that we weren't going to let this ruin our day and that we wanted to see each other dressed up as well as have our matron of honor and best man stand with us.
We were able to have our ceremony at the church, which we live-streamed, and a small reception after, which we did not choose to stream. I decided to decorate one table at the church as I had planned for the reception, pick up a bouquet from Kroger, grab our cake topper from the caterer, and buy a grocery store cake and some sparkling grape juice to celebrate with afterward. We contacted our pastor and told him that we would be moving forward with the ceremony just like we had planned, except with an online audience. The last thing we secured was [for] my brother to be behind the computer and set up the YouTube Live link and for my sister-in-law to take pictures.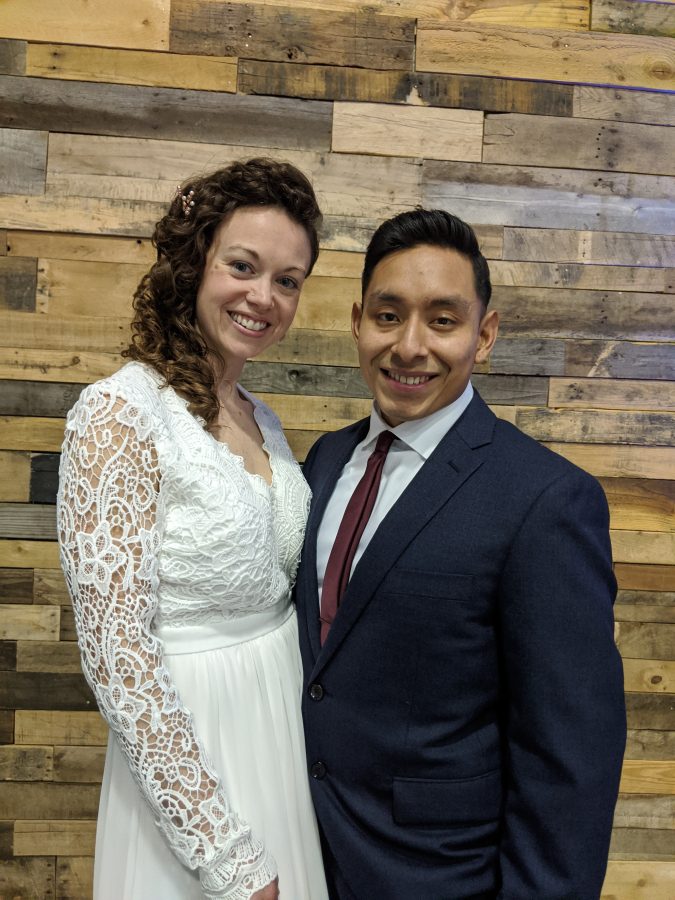 How much our virtual wedding cost
With the wedding attire for myself, my husband, and my daughter; the minimal decorations for the table (half of which were borrowed); the cake and juice; and the marriage license, we spent a little less than $900.
Things we had to sacrifice and things we were still able to include
The biggest disappointment was not being able to have our full wedding party stand with us [or] have our families physically present. We also didn't get to dance, which was something we had planned and were looking forward to at the reception.
How we made our virtual wedding special
Our ceremony was unique to us in that we included my daughter: She walked me down the aisle and my husband made a promise to her during the ceremony. We played the music we wanted for walking in and our first communion together, and we were still able to have some friends and family there to witness it. We also got to have our cake topper, which was unique to us as a couple and made the mini reception special.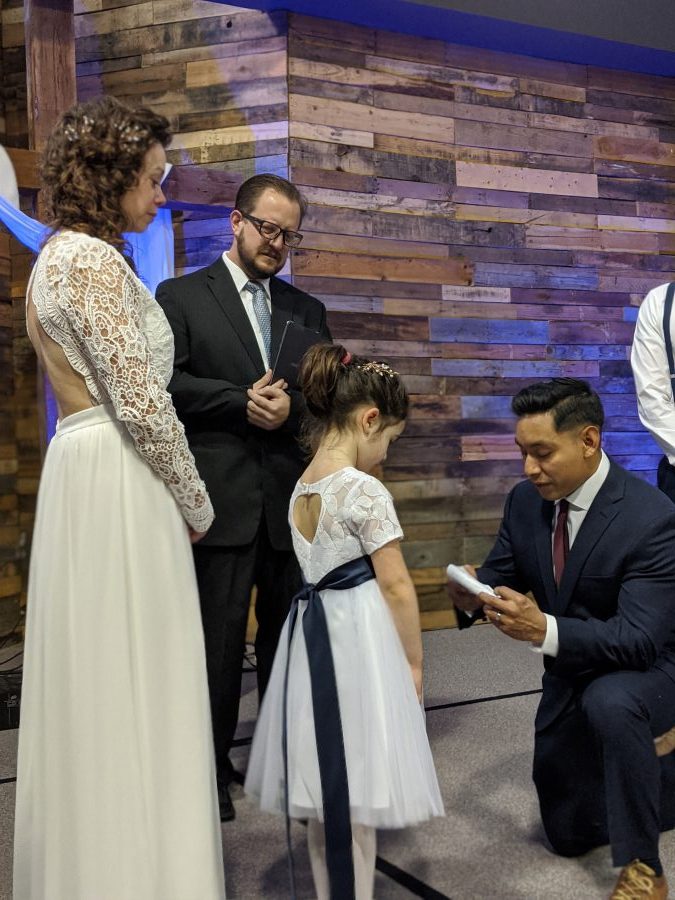 The party we're planning once the pandemic is over
We had already paid for all the food, so we needed to have a party sometime! The vendors were gracious enough to just allow the postponement, so we are hoping we can celebrate with all our family and friends sometime this year. We would like to eventually do the full reception with first dances, speeches, and the traditional cake cutting.
The most memorable aspect of our wedding day
The most memorable moment was that my husband had taken the time that morning to write special vows to both me and my daughter. I didn't know he was going to do that! Also, I think the day just felt special even though so much about it had to be changed. With all the emotions and chaos around it, we felt like we were in our own bubble from the moment I started walking down the aisle to the moment we had to pack up and leave the church.