12 expert tips for planning your next virtual birthday, graduation, and more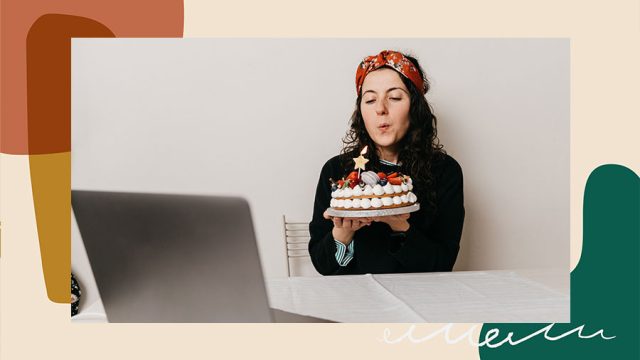 Leading into my 27th birthday recently, I wracked my brain for ways to make it feel like a celebration beyond a normal day at home. Typically on my birthday, I'd celebrate by going out to dinner with friends or my boyfriend and indulging in my favorite cocktails. This year, though, I could only make my apartment feel more like a restaurant, accompanied by a virtual celebration with all my pals over video chat. Was it slightly weird? Yes. Did it still feel special? Also yes.
If the coronavirus (COVID-19) pandemic is forcing you to celebrate a bigevent at home this year, that doesn't mean it can't still be memorable. Whether you're dealing with a birthday, graduation, or anniversary, there are a variety of ways to keep the day from feeling monotonous and dull. We spoke to a few party planning experts to get some at-home celebration ideas you can use for your next party.
Switch up the order of events
If a simple celebration with the people you live with just isn't cutting it, there's always the Zoom route—and according to Katie Cunningham, the founder of LYFETYMES celebration platform, you don't have to sacrifice on the fun details you originally had planned. "You can still decorate, open presents, have party activities," she tells HelloGiggles.
To keep the event going smoothly, though, "you may want to move things traditionally at the end of a party to the front; so if it's a birthday party, start with singing 'Happy Birthday,' blowing out the candles, and opening gifts," adds Cunningham. This way, your guests can get a highlight reel of your event without you having to pay extra to use Zoom beyond the 40-minute cap.
Send virtual invites
Cunningham recommends sending out virtual invites to guests with the date and time of the event and any information on how to stream the celebration. You can also include information about activities you plan on having, so guests can come prepared with any materials they may need for a virtual cocktail hour, for example.
Set up a gift registry
If gifts are an important part of your celebration, "add an easy registry link to your invite for guests to send gifts to your door or a cash link to get cash gifts," Cunningham suggests. Just be sure directions are clear and you provide the correct shipping address.
Create a memoir video
One great way to celebrate a guest of honor? Create a memoir video. "Ask your guests to each submit their memories or well-wishes for [the honoree] and incorporate those in the video," Cunningham says. "In your virtual party, you can share your screen with the other guests to enjoy." The videos can feature special songs or graphics based on the person you're celebrating.
Throw a virtual dance party
Evite celebration expert Zaria Zinn tells HelloGiggles that virtual dance parties have been a growing trend among her company's clients since the pandemic began. Whether you choose to hire a DJ to curate a playlist remotely or have your friends help you make your own on Spotify, you can explore the option of ordering some glow sticks online and busting a move.
Stream a class
If a dance party isn't for you, Zinn suggests coming up with another theme that fits your group's interests. "Are you inviting your active friends who you would typically meet up with for a hike? If so, stream a yoga class together," she says. "Are your guests your family members who love a good meal? Ask your talented aunt to lead a cooking class while everyone follows along in their kitchens. Just make sure the leading chef sends out the list of ingredients ahead of time, and keep it simple as to limit time people need to spend in the grocery store."
Plan a virtual happy hour
If you're planning a happy hour, some sommeliers are hosting virtual wine tastings over Zoom, says wedding, design, and event planner JoAnn Moore. "Invite your friends, sending each invited guest a box of appetizers and wines to be tasted before the day of the online event, and you've got a party," Moore tells HelloGiggles. You can check out The Sommelier Company for options.
Decorate your home
To add another layer to your celebration, spruce up your home. For virtual graduation parties, Cunningham suggests decorating different areas around the house with balloons in the graduate's colors, then using that area as a backdrop for the video chat. You can also do this for other events, of course, through ordering items online or creating DIY decorations that feel specific to the people you're celebrating.
Heidi Hiller, owner and creative director of Innovative Party Planners, tells HelloGiggles that if the honoree loves to travel but can't right now due to the pandemic, you can make your home feel like a mini getaway—and then guide them through the space. "Turn the bathroom into a day spa," Hiller advises. "Turn the dining room table into a gaming room and play fun games. Turn the living room into a beach with a lounge chair, island music, and turn on the fan for the gentle breeze. Be sure to serve them a fruity drink."
To turn my apartment into a mini restaurant for my birthday, my boyfriend and I dimmed the lights in our kitchen and set up our table with candles. We played some music and dressed up like we would've if we were going to a real restaurant, topping it all off with some takeout from our favorite neighborhood spot. It truly felt like I was celebrating my birthday the way I would've if I weren't in a pandemic.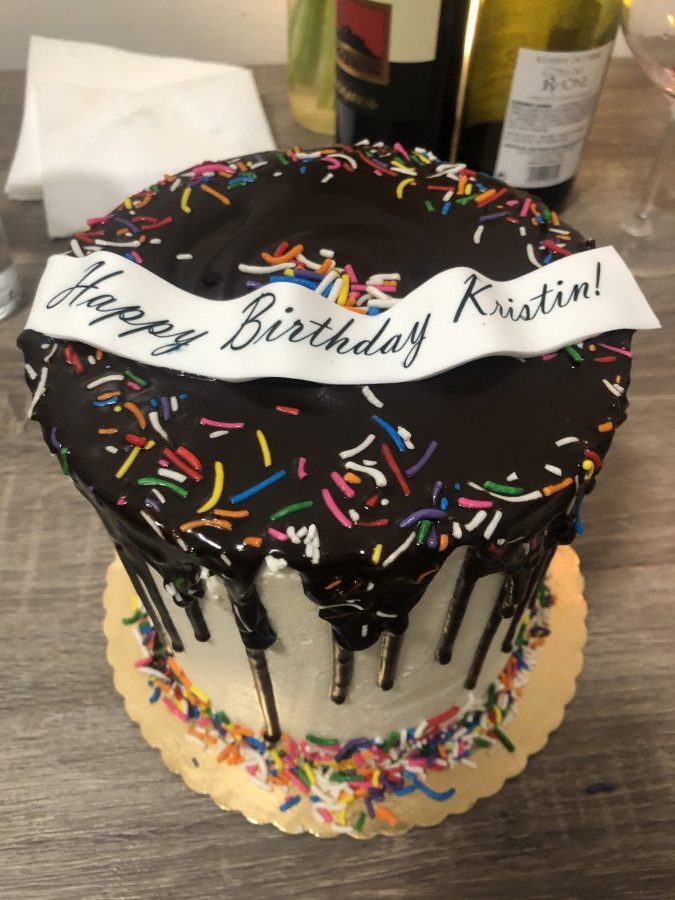 Do something out of the ordinary
Similarly, Zinn says that adding personal touchesfor you or the person you're celebrating will make the day feel different than a normal one spent at home. "Make sure to take some time to do special things you don't normally do on any given day at home," she says. "For example, you could make a special breakfast or take a long bath."
Plan a drive-by party
Car parades and drive-by celebrations are two other popular new trends you can explore if you have loved ones nearby. "Drive-by parties are gaining momentum as a way to get out of the house and social distance safely," Cunningham explains. "It is a great way to feel like you have participated and gone to a party."
If you live in a neighborhood where drive-bys are an option, you can have people slowly drive past your home in succession, holding signs and balloons or blowing noisemakers as they wish you a happy birthday or congratulations. Coordinate a time when the party will start and give your guests a meeting point so they can travel one after the other.
Make a gift drop-off zone
If a drive-by isn't practical for where you live, you can consider letting guests stop by outside your home with a gift. "Create a 'drop off zone' in your driveway or front of your home," Cunninghamsays. "Determine where guests can safely drop off gifts and decorate the space with balloons, so they know where to go."
As long as you maintain a six feet distance, you can wave hello to your party guests as they quickly come around to wish you well.
Have a "Save the Date" party
If you want to celebrate now in a small way while planning something bigger for a later date, Moore suggests having a "Save the Date" party. This can be as simple as a virtual toast to the future event, or you can take it one step further and have guests help you imagine what that eventual party will look like.
For example, Moors says that for a graduation party, you can request that guests write a message about where they think the graduate will be by the time you're able to have the real party. "The notes will be predictions as to what the family and guests's hopes and dreams are for the graduate and where they expect the graduate to be in one year or several years from now," Moors explains. "This is a way to ensure even those who would be invited today, [but] who may not be with [the honoree] in the future, are present no matter what."
We may be limited by our current circumstances, but having a great party isn't impossible. With a little ingenuity and clever use of resources, you can still have a special celebration with those you love.