You can now book virtual experiences on Airbnb, from meditations with Buddhist monks to flamenco dancing lessons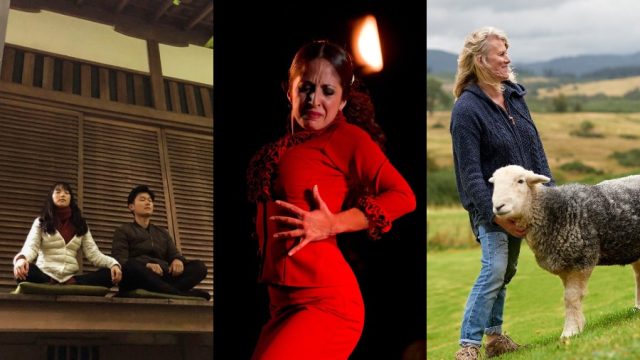 Travel plans have taken a hit during the coronavirus (COVID-19) pandemic. Whether you had plans to travel internationally or just wanted to take a weekend road trip, there's a good chance your 2020 calendar is looking different than expected. Fortunately, Airbnb has found a way to bring the excitement of travel to your own home. With online experiences led by Airbnb hosts around the world, you can plan a packed itinerary while following stay-at-home orders.
You can take a cocktail class from drag queens in Portugal, learn how to make ricotta cheese with Juli from Sonoma, or pick up some new dance moves with a professional flamenco dancer in Spain. But the experiences are not all centered on learning a new skill. You can get a tarot reading or take an astrology workshop. Other experiences will help you find your zen. Try a $10 meditation class with a Japanese Buddhist monk or do some breathing exercises with sleepy sheep from the U.K. Want more animals? Meet the penguins in South Africa.
The classes range in price: Some are as low as $2 per person, while some of the multiple-hours-long sessions are priced at over $100. Most of the experiences are significantly discounted compared to what they would cost in person. The benefits are twofold: You get to enjoy a unique experience from the comfort of your own home, and Airbnb hosts have a way to make up for lost income while in-person experiences are suspended.
These virtual experiences are also a way to connect with people around the world—and we could all use some more human connection these days.
"With so many people needing to stay indoors to protect their health, we want to provide an opportunity for our hosts to connect with our global community of guests in the only way possible right now: online," Catherine Powell, head of Airbnb Experiences, said in a press release sent to Insider.
All of the virtual sessions will be held via Zoom, and Airbnb is providing accounts to all hosts for free. As reported by Insider, the company is also partnering with charitable organizations—SAGE, the National Council on Aging, the Associazione Nazionale Alpini – Sezione di Milan, and the Amigos de los Mayores—to offer these experiences free of charge to some of the most isolated communities, like the elderly.
Scroll through the 50+ available experiences now to start planning your virtual vacation. Keep refreshing the page: Airbnb is expected to add thousands more in the coming weeks.
As information about the coronavirus pandemic rapidly changes, HelloGiggles is committed to providing accurate and helpful coverage to our readers. As such, some of the information in this story may have changed after publication. For the latest on COVID-19, we encourage you to use online resources from CDC, WHO, and local public health departments, and visit our coronavirus hub.