This viral photo of Bernie Sanders at Ben & Jerry's makes us hope we can save the world with ice cream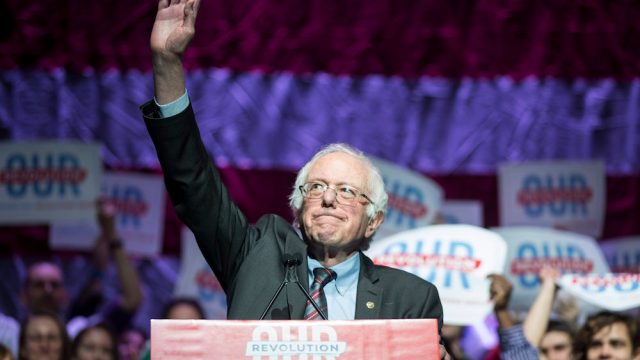 From the looks of it, Senator Bernie Sanders had an amazing time visiting the Ben & Jerry's St. Albans' factory in his home state of Vermont. We had an equally amazing time seeing the corresponding photos of Sanders speaking from the Ben and Jerry's "Euphoric Stuff" lectern.
They're kind of incredible. Senator Sanders is standing at a podium — but it's not just a regular podium. It's dressed to look like a giant pint of Ben & Jerry's. (If only it was Bernie Sanders' Ben & Jerry's flavor!)
Needless to say, the internet ate it up. Can you blame them? Because it doesn't just look like the senator is talking in front of a huge pint of ice cream.
See for yourself.
The memes followed pretty much immediately.
Of course, the visit was no laughing matter to the Vermont senator. According to ABC News, Senator Sanders spoke to factory employees about key issues that he's passionate about: raising minimum wage, education and environmental issues. When asked, Sanders told workers he will propose legislation that would increase minimum wage to $15 per hour.
We can only hope the photo helps spread his important message.
Even if it looks like he just popped out of a tub of Ben and Jerry's to deliver it.
But Bernie had his fun, too. After all, has anyone been known to escape a visit from Ben and Jerry's without sampling a few new flavors?
So, what's next for the beloved Senator and Ben and Jerry's aficionado?
According to Senator Sanders' website, he and DNC Chair Tom Perez along with other Democratic Party leaders and activities will be embarking on a "Come Together and Fight Back" tour. Tentatively scheduled to hold rallies in Maine, Kentucky, Florida, Nebraska, Utah, Montana, Arizona and Nevada, the purpose of their trip is this:
"...To begin the process of creating a Democratic Party which is strong and active in all 50 states, and a party which focuses on grassroots activism and the needs of working families.
Sounds good to us! 
Thank you for showing us how it's done and for inspiring Ben and Jerry's tasty invention, Bernie's Yearnings.  Mint ice cream beneath a rich slab of solid chocolate? Yes, please! Who knew politics and ice cream went together so well?