This Mom's Viral Balloon Hack Will Make Your NYE at Home Super Festive
Can't make it to New York City? No problem. Make your own midnight ball drop at home!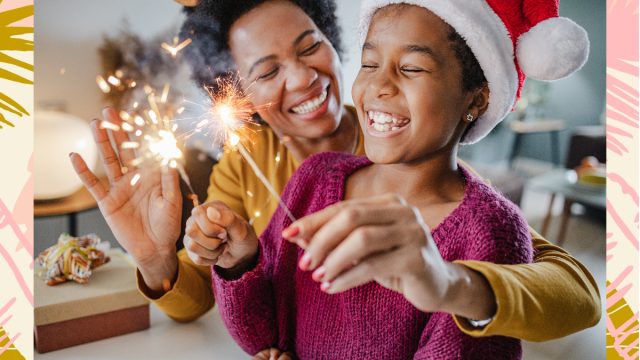 Can't make it to NYC to watch the ball drop? No problem! Momfluencer Shannon Doherty has a solution: Make your own ball drop at home, using balloons!
RELATED: No Matter How You Spend NYE, Here Are 5 Ways to Ring In With Cheer
"I wanted to create a New Year's Eve party at-home for my family, and I thought this would make it extra fun. The kids also had fun making it with me," the mom-of-four shares with HelloGiggles. 
As Doherty shows in a TikTok video shared with her more than two million followers, all you need for this cheap and easy project is a paper tablecloth, painters tape, balloons and string. You start by taping the tablecloth to the ceiling on one side, and leave the other side hanging for now.
Next, you blow up about 8-10 balloons, tie a string onto each one, and place them inside the tablecloth, and tape the other side.
When the clock strikes midnight, have the kids tug on the strings and let the tablecloth come off the ceiling, as the balloons come tumbling down. Voila! Easy and fun DIY ball drop. Happy New Year!
While you might be thinking about popping that champagne at the dawn of the New Year, here's another party hack that'll really pop.
If you have some balloons leftover, Doherty shares another fun trend that's sure to keep the kids entertained while the countdown is on.
You take eight balloons and place a piece of paper inside each one with a New Year's Eve tradition (such as the 12 Grapes one that's trending this year). Be sure to let the kids get creative when choosing their favorite traditions and activities.
Next, affix a large cut-out number to each one, and tape onto your wall in a clock formation.
Each hour leading up to midnight, go over to the wall and pop one balloon, and do the tradition that's written inside. "Take one step forward each hour leading into the New Year's!," exclaims Doherty.
Don't forget the sparkling cider for the kiddos so you can toast to 2023!
Jené Luciani Sena is an accredited journalist and internationally-renowned bestselling author, regularly seen on national TV outlets such as Access Daily, Today and Dr Oz. Touted as one of Woman's World Magazine's "Ultimate Experts," she's a TEDTalk speaker and a busy Mom of 4.
Read more