Violet, newborn baby goat is sending us into a cuteness spiral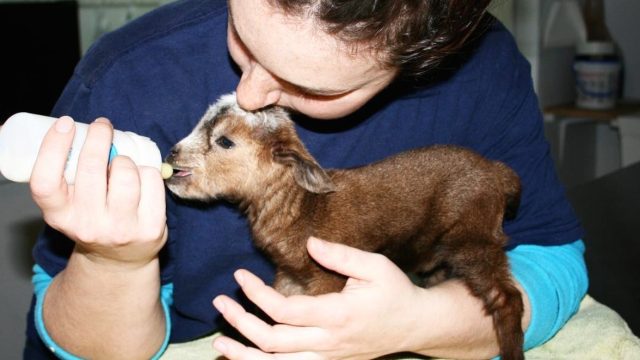 Meet the new love of our lives: Violet the baby goat. Just looking at her makes us want to cry all the tears. I mean, the CUTENESS. It's almost too much to handle. But her story pushed us right over the edge.
Tiny little Violet was born last week, one of three triplets. Soon after birth, her mother rejected her. (We're sobbing.) No judgments, mama goat. This actually happens a lot. A mother sometimes can't make enough milk to feed three babies, so she rejects the weakest one. Still, there aren't enough broken heart emojis in the world to express our sadness over Violet's plight.
Fortunately, the good people at Catskill Animal Sanctuary stepped in to rescue this little darling. A caregiver there named Kellie has been taking care of her and feeding her with a bottle to make sure she gets enough nourishment. According to the Catskill Animal Sanctuary's Instagram page, Kellie even took Violet home with her so she could feed the baby goat every two hours, round the clock.
Kellie, you totally rock. Seriously, you're amazing. Violet rocks too, obviously. Here she is, showing off her awesome milk-drinking skills.
The next day, she drank even more. GO VIOLET!
But wait…listen to the noises she makes. (We're melting.)
Violet has even learned how to run already, which she does while wearing a striped tee-shirt. (Because of course.)
To see more of Violet and the other adorable baby goats at Catskill Animal Sanctuary, visit them on Instagram.
BRB. I've fallen into an IG hole and I can't climb out.