Viola Davis rocked her natural hair at the 2018 Golden Globes, and Twitter is loving it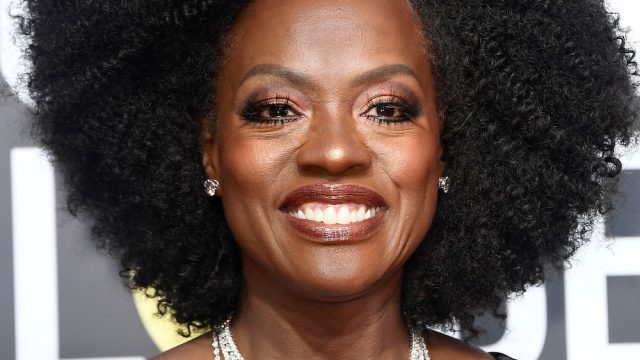 The 2018 Golden Globes was all about protest with fashion, political accessories, and even the dates that celebrities chose to bring to the event. And the iconic and outspoken Viola Davis made a statement by rocking her natural hair to the awards show. Let's just say the internet uttered a collective "Yasss" in response. Aside from Davis taking part in the Time's Up movement by wearing an all-black ensemble, she slayed the red carpet even more with her stunning accessories and natural hair.
While the How to Get Away With Murder actress may not have been nominated this year, Davis certainly intended to walk away a winner even before she even hit the carpet.
One Twitter user thought that all the evening awards should go to Davis, and they couldn't be more right — particularly because the actress showed up with impeccable makeup and a halo of coils that can only be described as #blessed.
https://twitter.com/udfredirect/status/950145585062952960
false false
Not only did she shut down the red carpet with moisturized hair and a silent f*ck you to conventional beauty standards, but she spoke up in support of the #MeToo and #Time'sUp movement. She delivered an uplifting message: false
In an industry notorious for silencing women who look like her, Davis chose to make more than a fashion statement and used the red carpet to talk about being a survivor and standing with other survivors. She gives brown women hope that our curls can pop and that we can find makeup that complements our melanin skin, while knowing that our self-worth isn't tied to our appearance.
false false
This is Viola Davis' world and we're all just lucky to be a part of it.