Viola Davis gave a speech about being yourself and it's definitely something to live by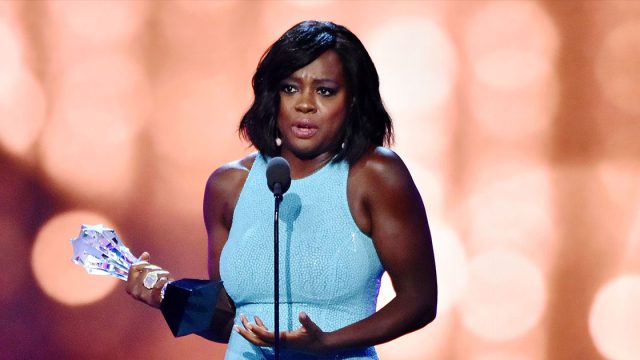 As if we needed a reason to love her any more than we already do, then Viola Davis gives a rousing speech about being true to who you are and, of course, we can't stop our hearts swelling.
Davis has a history of wowing us with her words. We were completely blown away by her incredible speech at last year's Emmy awards, and later she killed it again talking to Seth Myers about opportunities for African-American women thereby inspiring us all over again.
What's more, Davis has a history of proving she's 100% amazing. Whether it's opening up about her societal pressures surrounding black women and their hair or becoming an advocate for the Rape Foundation, she is one heck of a woman.
Well, now Viola Davis has inspired us all over again with her speech about being true to who you are.
The star of How to Get Away With Murder was speaking at the Critic's Choice Awards on Sunday night (December 11th) where she became the first actress to win the Association of National Advertisers' #SeeHer Award. The award was created by the ANA in a bid to help improve the image of all women and girls in media, and we can't really think of a better recipient, tbh.
After being introduced by Amy Adams, Davis took to the stage dressed in the most flawless sequined dress and gave a rousing speech.
"It's hard to accept being a role model for women when you're trying to lose weight, Davis joked. "I've always discovered the heart of my characters, I guess, by asking 'Why?' When I was handed Annalise Keating, I said, 'She's sexy, she's mysterious; I'm used to playing women where you gotta gain 40 pounds and wear an apron. I gotta lose weight. I gotta learn how to walk like Kerry Washington in heels. I gotta lose my belly."
Continuing, the star, who is hotly tipped to win an Oscar for her role in Fences, told how she decided that, actually, she didn't need to change who she was. Rather, she would just be who she was.
"I truly believe the privilege of a lifetime is being who you are, and I just recently embraced that at 51. I think my strongest power is that, at 10 every Thursday night, I want you to come into my world," she added. "I am not going to come into yours. You come into my world and you sit with me — my size, my hue, my age — and you sit, and you experience. I think that's the only power I have as an artist, so I thank you for this award and I do see her, just like I see me."
Tbh, we couldn't agree MORE with what Viola is saying and it's a mantra we really hope to live by. Watch her full rousing speech below.
https://www.youtube.com/watch?v=GrTwjRuelQM?feature=oembed
Seriously, Viola Davis is SUCH a queen and she deserves ALL the awards. Don't ever change!