Viola Davis just brought the house down with her EPIC Oscars acceptance speech
We've been waiting for the day when the ridiculously talented Viola Davis would take home an Oscar, and the wait is officially over. Davis just won Best Supporting Actress at the 2017 Academy Awards for her role in Fences.
Taking the stage Sunday night, the three-time Academy Award-nominated actress accepted the award to the thunderous applause of the audience, thanking the Academy before launching into a heartfelt speech about what inspired her to make the movie, which takes place in 1950s Pittsburgh and is based on a play by the late August Wilson.
"You know, there's one place that all the people with the greatest potential are gathered. One place. And that's the graveyard," she began. "People ask me all the time, 'What kind of stories do you want to tell, Viola?' And I say, 'Exhume those bodies. Exhume those stories — the stories of the people who dreamed big, and never saw those dreams to fruition. People who fell in love and lost.' "
Through tears, Davis — who is only the seventh Black woman to receive an Academy Award for Best Supporting Actress and the most nominated Black actress in history — went on to say she's grateful for the career path she chose because it shines a light on stories that might not be told otherwise.
"I became an artist, and thank God I did because we are the only profession that celebrates what it means to live a life," she said, to more applause from her colleagues and visible tears from many audience members. "So here's to August Wilson, who exhumed and exalted the ordinary people."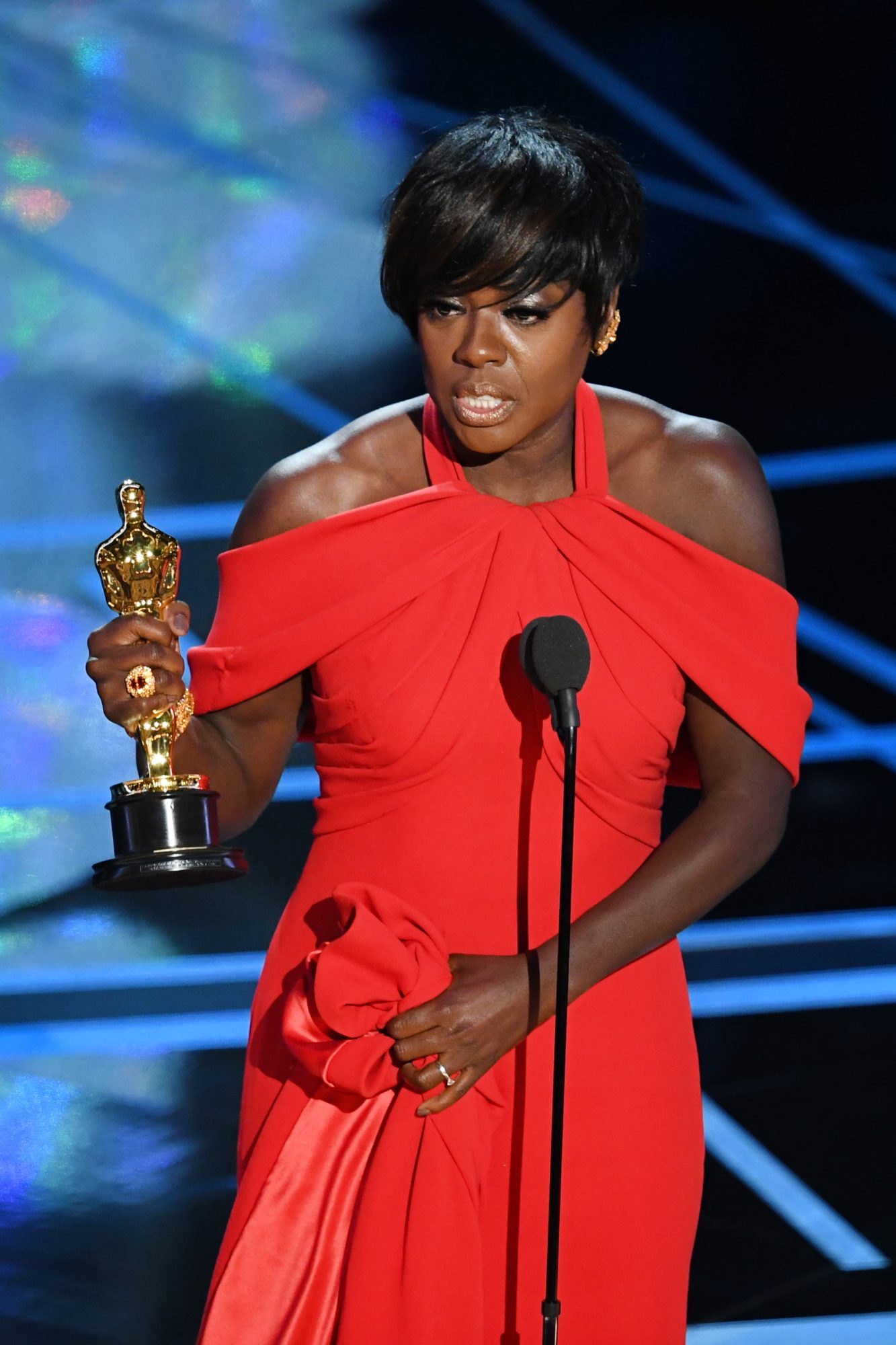 Of course, Davis thanked Denzel Washington — who led the film in both acting and direction, referencing Walt Whitman by calling him "O Captain! My Captain!" — and her family, including husband Julius Tennon, their daughter Genesis, her siblings, and her parents Mary Alice and Dan Davis.
"They're people who taught me, good or bad, how to fail, how to love, how to hold an award, how to lose," she says of her parents. "I'm so thankful that God chose you to bring me into this world."
We're still in tears ourselves over Davis's moving speech, and couldn't be more thrilled for her well-deserved honor. And you can watch it in its entirety here: https://www.youtube.com/watch?v=BS_CQ_EMST8
Is it too much to say Viola Davis for president 2020? The woman can give a speech.