This video selfie from Britney Spears and Kim Kardashian is breaking the internet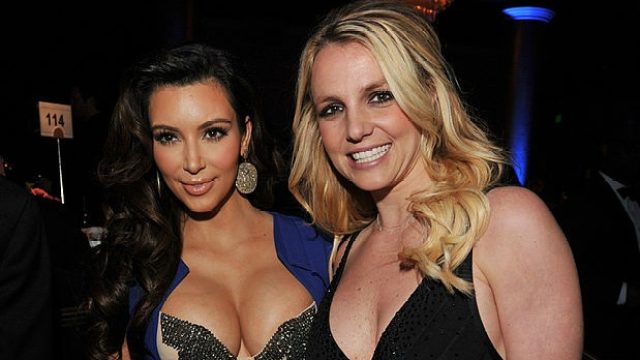 All eyes were on Britney Spears at this year's MTV Video Music Awards, and with good reason — Spears was set to take the VMA stage after nine long years, and her performances have been sorely missed in the time since then. Of course, Spears is hot on the heels of a whirlwind promotional tour for her ninth studio album, Glory, and it's always great to see her doin' her thing on the VMA stage.
Britney was in perfect form last night, slaying her appearance both on the red carpet and in her actual performance with G-Eazy. It's always great for die hard Brit fans to see her looking radiant and happy, and last night was no exception. But perhaps no one fangirled harder over Ms. Spears than her former Calabasas neighbor, Kim Kardashian.
Kim has never been shy about her love of the pop princess, even tweeting back in 2009 with three exclamation points to boot:
The two ladies shared plenty of love on social media ahead of last night's show, with Kardashian teasing that she'd be presenting someone she's "obsessed" with.
When people obviously assumed she meant husband Kanye West, Kim clarified, saying:
Then Brit herself added fuel to the fire by tweeting back to Kim, sending fans into a frenzy.
Kim showered praise on Britney, presenting her as she took the stage for an electric performance, but it's the amazing moment that happened backstage that solidified these two as our favorite new BFFs. Kim shared a video selfie of she and Brit to her Snapchat, which Britney then shared to her Instagram.
The citizens of the internet are JUST as in love with this friendship as we are.
All we have to say is, gimme more, ladies!