This video perfectly explains most people's feelings about swimsuit season in minutes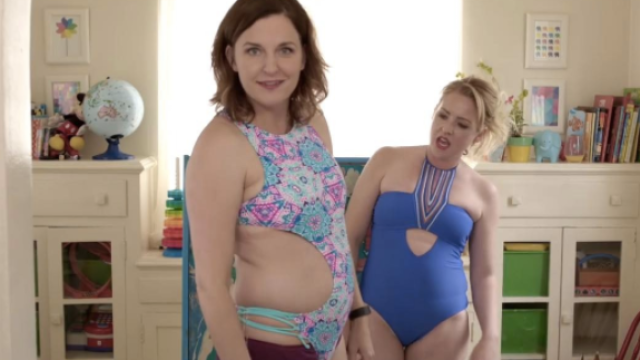 Ah, yes, it's swimsuit season. Which means women everywhere will be inundated with ways to get their "bikini bod" ready (UGH). For moms, swimsuit season presents an entirely different kid of challenge — they have to work in a swimsuit. Lift coolers, carry way too many things, and hopefully not have their boobs pop out in front of other moms at the pool. And most bathing suits just are not that practical. Which is why two hysterical moms made a video about swimsuit season, and it's totally on point.
The creators of "I Mom So Hard," Kristin Hensley and Jen Smedley, aren't worried about their bodies.
"I'm always going to look like I love cheese, because I love cheese," Smedley says. But the swimsuits that are advertised to them are out of control. Even if you're not a mom, their video is relatable. There are the suits with random cut-outs in all the worst places. Trying on a halter-style one piece, Jen is happy to see that, "This one gives me four different butt cheeks."
Another suit has so many cut-outs on the front that, Kristin says,"it looks like you're pressing something up against a tennis racket." Another whimsical floral suit presents another problem: "I can't discipline kids in this," she adds.
Swimsuit season doesn't have to be miserable.
Before trying on the random swimsuits straight off the rack, the women demonstrate how much easier men have it. Think about it — they get to wear t-shirts and comfy shorts. It's not about hiding your body but being comfortable while you're herding kids to and from the beach or pool and ensuring that your vagina isn't on display or your boob pops out of your top every time you bend over to pick up a swim toy or apply sunscreen to a whiny toddler.
The video is pretty amusing, if only because it's true. You can love your body, but also sort of hate swimsuit season. And it's even better if you can laugh about it.