This video of Dug from "UP" talking IRL is exactly what you need today
Disney addicts, rejoice! Disney superfans like us always wish that Disney movies could come to life, and now, we're in luck. Disney has launched a new digital series called Disney IRL and it might just be everything we need, and more.
The idea is to take create real-life moments modeled after aspects of Disney stories, and the first one is totally delightful.
Inspired by the talking dog, Dug, from Up, Disney made a hidden camera video of a talking golden retriever surprising normal people in a park. Masquerading as a lovable stray, the IRL Dug has a collar just like the one in the film, and it "translates" his barks into English.
https://www.youtube.com/watch?v=e_C5zsPmuXE?feature=oembed
The first part of the video shows people's surprised reactions: "Oh my god, did he just talk?! asks one woman, and a little girl asks Dug, "How do you talk? When Dug responds that his collar allows him to, the girl replies, "No!
Disney employed the help of Bob Peterson, the voice actor who played Dug in the film. Peterson also voiced Roz in Monsters, Inc. and Monsters University, and Mr. Ray in both Finding Nemo and Finding Dory.
Peterson's enthusiasm as Dug is heart-warming, especially when he makes the lovable canine joke with park-goers. "I thought I saw a squirrel on your face, but it was only fur, IRL Dug tells a man sporting a brown beard, making us LOL for days.
We also get treated to Dug enjoying games of catch, and even — of course — being distracted by a squirrel.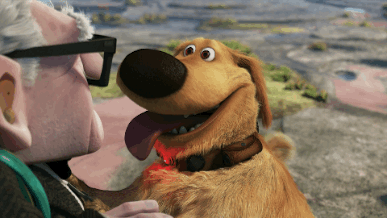 We're not sure what else Disney IRL will have in store; Maybe we'll get to see a real-life Olaf from Frozen come winter; or someone flying with an umbrella just like Mary Poppins. Either way, we're super excited to see more – especially if the videos are even half as magical as this one.