This video of Chrissy Teigen making Baby Luna laugh with the word "boo" has just melted us forever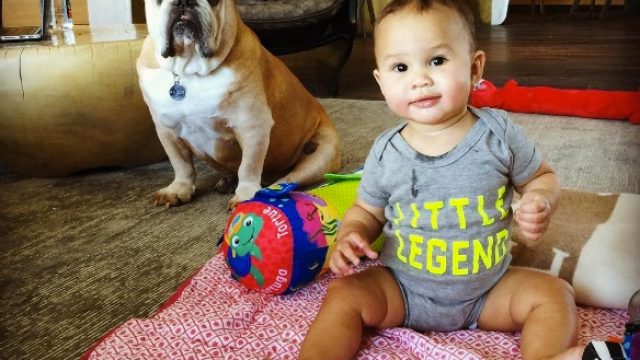 It's probably pretty obvious by now that if there are two things we love in this world, it's babies and celebrities. Which means that babies of celebrities are basically our most favorite of things.
Teigen posted the quick clip to her Instagram account (where we find the majority of our most precious celeb baby treasures), and it already has 1.4 million views! That's right — this simple video of Luna in a red and white holiday sweater and giant turquoise necklace has captured the hearts of basically all of us.
Have a look:
Awwwww! Hold on a sec — we've just melted into a literal puddle on the floor and need a moment to regain our humanely form.
And if after seeing that insanely adorable clip has left you craving more Luna adorableness, don't worry. We've ALWAYS got you covered in that department. Take a look at her here, waving boldly at the camera.
Or here, crying as she met Santa (ahhhhh so cute!!!):
The Teigen/Legend household has been pretty darn busy lately. What with Legend doing promotions for his new movie La La Land (which he acts in and wrote music for), and Teigen promoting her new cookbook. Oh, and the whole raising that tiny human thing. So we're glad to see what looks like so many incredibly happy moments from the couple's life.
Keep it up, guys! Oh, and more adorable pics of baby Luna.
PALEAZE AND THANK YOU!