I survived a workout with the Victoria's Secret Angels trainer, and honestly, you could handle it too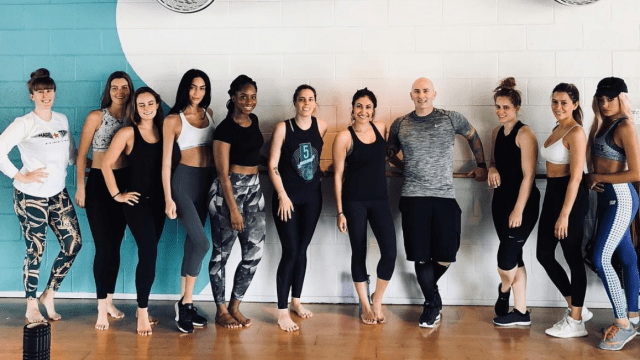 I filed into Swerve studio in Los Angeles on a sweltering Saturday morning this month ready to work out with Justin Gelband — the man who trains many of the Victoria's Secret Angels, including Miranda Kerr, Candice Swanepoel, Irina Shayk, and Karlie Kloss. And real talk, I was a little nervous. Anyone with eyes can see that those women dedicate serious time and energy to their bods, and even though I'm a dancer, I prefer to enjoy my couch and pooch most nights instead of hitting the gym.
But spoiler alert: I not only survived Gelband's class, I actually thrived.
I wasn't dying, I didn't give up halfway through, and I walked out with a smile on my face. Am I Victoria's Secret Angel now? LOL NO. But I am my badass self and I have a few new workout tricks up my sleeve.
So let me back up for a sec and tell you all 'bout it.
For Gelband's signature workout, we exercised barefoot (to really connect with the floor beneath us and feel our movements) and used those fitness steps that were popular in the '80s and '90s, along with a pair of ankle weights and light hand weights.
https://www.instagram.com/p/Bjr09iTF4_p
The thing I found most interesting about Gelband's workout style was the size of the movements — everything we did was so subtle, but it was targeted to really maximize the burn without causing injury; Gelband frequently used phrases like "mini one" and "little one" to describe how small these movements should be.
We started with a warmup, then stayed standing while we worked with the step in various lunge and squat positions. From there, we moved to hands and knees and then to the floor, where we worked our abs, glutes, and thighs.
https://www.instagram.com/p/BjkgDiFgzWu
Gelband, who has been in the business for about two decades, explained that his workout philosophy is all about activating proprioceptors, which are sensory receptors on your nerve endings that help you understand your body's position in space.
"It's really important that we feel and understand how our body works," he said. "I teach all my trainees how to be a better you and to connect with the movements we are doing so that the body feels and can absorb the micro-movement, resistance-based exercises."
In other words, Gelband's workout is all about connecting the body to the space around you to maximize the effects of tiny movements — because if you're conscious of how your body is working, you'll actually work out better.
While Gelband doesn't have what I'd call a gentle approach — it's more bootcamp than girl power — I never felt demeaned or discouraged in his class. In fact, I worked really hard and didn't want to give up. Is this what it feels like to be a VS Angel?!
Not exactly, I'm sure. But Gelband said we did get a dose of the kind of workout he does with the VS Angels, though adapted for us mere mortals.
"[With the Angels,] our typical fitness goals are for them to be as strong, lean, toned, and fit as possible," he told HG. "[They need to] feel strong in heels or any type of motion or position they're asked to pose in, or things they may have to do on set that aren't comfortable, and handle these situations with ease because their body was trained for it."
He also said that the way he trains each model is different based on the kind of work she's doing — so a VS model who only does Victoria's Secret would train differently than a VS model who also does commercial or high-fashion modeling. "I have studied my industry for 15 years, so I know what the photographers look for and what the clients like, so I shape them accordingly," he explained.
https://www.instagram.com/p/BjiVc2SgwJp
For me, though, this workout was just right — challenging and thorough, but with careful attention to form to keep our bodies safe. And I promise, if Gelband swings through your town, you'll feel like a warrior if you take his class. Don't miss him!