Victoria Beckham's son posted this rare photo of her, and David Beckham lovingly trolled it
It turns out that you must have a good sense of humor to be a part of the Beckham household. Cruz Beckham, Victoria and David Beckham's 15-year-old son, posted a throwback photo of himself and his mother, in which Victoria is smiling—a rare occurrence. When David caught wind of the pic, he had no choice but to leave the most hilarious comment on Instagram.
"Apparently my mum does smile," Cruz captioned his May 25th Instagram photo of him and his mother in fluffy hotel robes.
Fans in the comments section wrote that they didn't recognize Victoria because of her smile, and someone even wrote, "a first." Um, a bit rude. But obviously, based on the Friends-themed comment David left under the pic, Victoria can definitely take a joke.
"How white are mums @victoriabeckham teeth?" David Beckham wrote on Cruz's post. "It's Ross from friends."
We, and 13,000 other Instagram users, are fully deceased.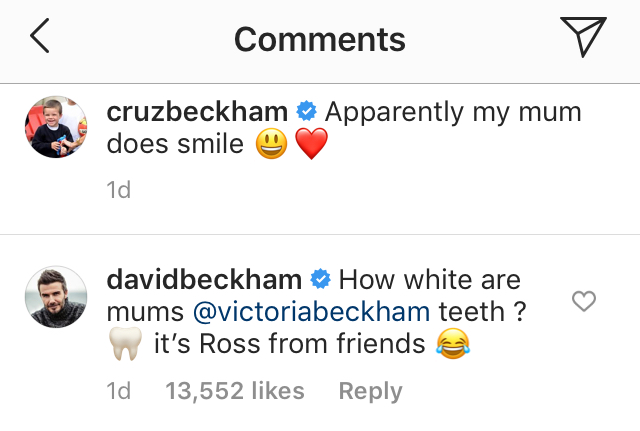 For those who don't recall the Friends episode David is referring to—an episode in the sixth season aptly called "The One With Ross's Teeth"—Ross Geller decides to whiten his teeth before a date, but he leaves his whitening gel on for too long. Sadly, Ross scares his date because his teeth end up being so white that they glow in the dark.
To be clear, Victoria looks amazing, and she can feel free to smile or give us Posh Spice energy—whatever she wants. But we adore that this family seems totally happy to lovingly poke fun at each other, and that they're Friends fans, just like we are.