Victoria Beckham is collaborating on a new Reebok fashion line (that will hopefully be affordable)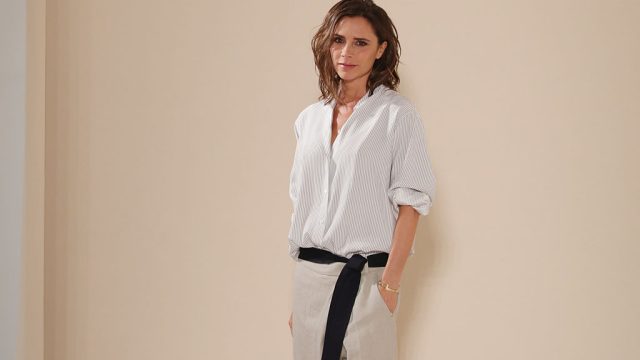 Is there anything Victoria Beckham can't do? From being in one of the most popular girl bands of all time, to raising a family (with hunky husband David Beckham nonetheless) to founding an ultra-successful fashion house, Victoria is the definition of a power woman. Now, the ex-Spice Girl has a new accomplishment to add to her extensive list: Victoria Beckham is collaborating with Reebok on a line that's sure to make our '90s hearts sing. As of right now, we don't have a good idea of what will be included in the collab, but we're thinking luxe joggers, sneakers with an elegant finish, and just general Posh-meets-Sporty-Spice goodness.
According to Glamour UK, in a press release, Reebok stated,
"Rooted in their shared goal of women's empowerment, the fashion powerhouse and Reebok will join forces in a long-term partnership highlighted by the introduction of a bold new Reebok x Victoria Beckham collection."
The collaboration won't be available until late 2018, so we'll just have to spend our time daydreaming about all the pieces Victoria will be designing. And since this is sure to be cheaper than her namesake line, we have a feeling we'll be snagging plenty of VB x Reebok pieces when that time comes.
Victoria posted a photo to her Instagram to announce the collaboration. Glamour UK reports that, of this news, Victoria says,
"Having the opportunity to realise my aesthetic within a sportswear environment is something that I have long wanted to do. Partnering with Reebok will enable me to further promote my vision in a new category. It's incredibly exciting to work with such an iconic brand that epitomizes my belief in encouraging women to be the best version of themselves."
We're hoping that the collection includes the killer graphic dress Victoria posted on her Instagram. And of course, the crisp white sneakers too.
So don't mind us, we'll just be counting down the days until this collaboration, playing some Spice Girls until it's finally here.