Victoria Beckham and Mel C performed together, having their own Spice Girls reunion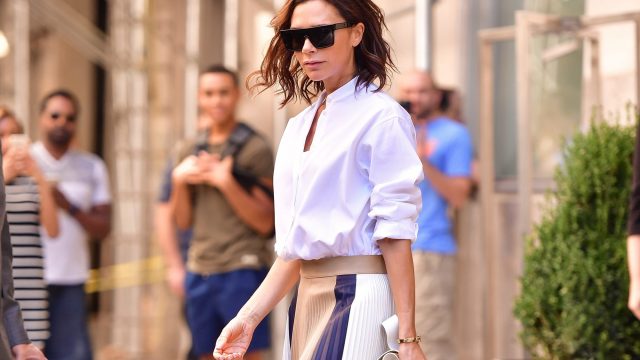 Happy New Year '90s kids! Spice Girl members Victoria "Posh Spice" Beckham and Melanie "Sporty Spice" Chisolm held a mini Spice Girls reunion at Beckham's New Year's Eve party. Mel C., who was on tap as a performer sang the Spice Girls' 1996 hit "2 become 1" and Beckham couldn't resist joining her friend on stage. Beckham, looking every bit the glamorous hostess, donned a floor length gown (probably of her own design) at her party, co-hosted with longtime friends Gordon and Tana Ramsay in the Maldives. Mel C. looked fabulous as well, wearing a black midi-dress. Though she did the bulk of the singing, Beckham swayed along, with her arms wrapped around her friend.
https://www.instagram.com/p/BOtq9YPgSHk
We all know that Beckham famously hung up her microphone along with her "little Gucci dress" and become an uber famous fashion designer, so it was so nice to see her up on a stage again. It was the first time anyone from the group performed at the closing ceremony of London's 2012 Summer Olympics. She even threw up a couple peace signs; a signature gesture from the Spice Girl days. According to UK magazine The Sun, Beckham worked really hard to put the performance together because the two have grown even closer over recent months.
It was a reassuring sight for Spice Girl fans as the two have reportedly declined to join the other Girls, Melanie "Scary Spice" Brown, Geri "Ginger Spice" Halliwell Horner and Emma "Baby Spice" Bunton in a 20th anniversary reunion tour. The remaining three have formed a new version group called "Spice Girls GEM" (Geri, Emma, Melanie.) They posted a short video on YouTube announcing the change.
So, since Mel C. and Victoria won't join the reunion, we'll have this clip to look back on. #VivaForever