This loving vet ate out of a dog bowl to get a traumatized rescue pup to eat, and tissues please!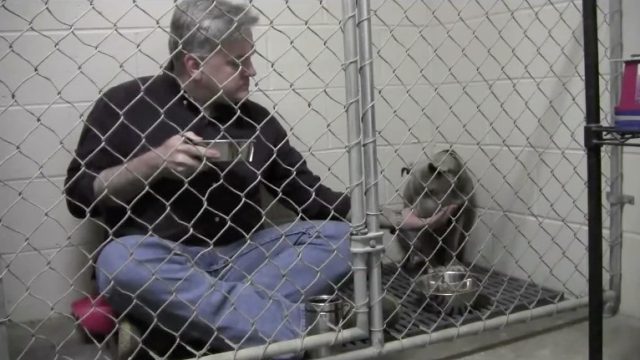 Dogs always have a special way of capturing our hearts. But when it comes to a dog that's had a difficult life and desperately needs love, we just fall apart. And that time for today is now.
Because we just heard that a veterinarian ate from a dog bowl (after climbing into a cage) in order to show a neglected pit bull named Graycie that it's okay (and safe) to eat.
Here's how it went down. When she arrived at Granite Hills Animal Care in Georgia, Graycie was dangerously thin and very skittish. Vet Andy Mathis took her under his wing and encouraged her to eat, but when she continued to hesitate — he put himself in her shoes. Literally.
If you're imagining a guy on his hands and knees, eating like a dog — that's not exactly what happened. He still ate with a spoon, but the human company was all that Graycie needed to eventually feel comfortable about eating from her own bowl.
As you can see, Mathis clearly has a way with animals. The way he gently stroked her head and hand-fed her at the beginning just makes us want to squeeze our animal friends with all our might!
via giphyAnd that's not even the best part of this story. When Graycie put on some more weight and started behaving as her happy self, Mathis put on a suit and hosted a dinner party for her. Complete with a white tablecloth and everything! And it also happened to be Valentine's Day. Awwwwww.
You can see that Graycie is almost unrecognizable in this video — in a good way. She looks like a well-cared for doggie with a healthy appetite and zest for life.
Sending so much love to Graycie! She's come so far, and will no doubt get adopted by a loving family.
Dogs. They're just THE BEST.