This Is the One Sunscreen That Won't Irritate or Break Out My Skin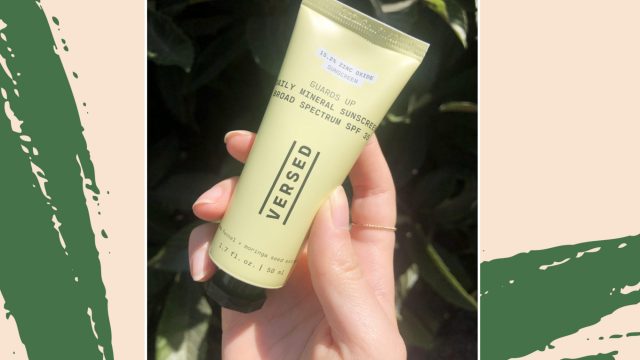 Welcome to Game Changers, a weekly series in which we reveal the holy grail beauty products we're loving now—the ones that saved our hair, cleared our skin and, in some way, changed our lives.
I've recently developed quite an obsession with sunscreen. Chemical vs. mineral, solid vs. liquid, waterproof, tinted, spray-on sunscreens for reapplication, etc.: The options are endless. However, if you're like me and have acne-prone skin, finding the right sunscreen can be challenging. 
My skin is sensitive and acne-prone, so I'm very cautious about what I put on my face. I always read the ingredient labels, and I find that by doing this I've been able to avoid big mishaps that often come with trying new skincare products. In the last two months, I've tried six sunscreens during my quest to find the perfect one. While some of these were great, I wasn't completely sold on any until I tried the Versed Guards Up sunscreen. 
Shop it! $26.99, Target
After using the Versed Guards Up sunscreen for a couple of weeks, I can confidently say it's my favorite SPF. It hasn't made me break out and it's been perfect for everyday wear. During quarantine, I've been pretty much bare-faced every day, but I've tested it under my makeup and was happy to see no pilling. Even though it has a sunscreen-y smell when initially applied, the scent quickly disappears, and I love that it leaves my skin feeling moisturized and gives me just the right amount of glow.
As someone with pale skin, I can say that it blends out seamlessly and offers cast-free results. However, if you have melanated skin, know that this sunscreen was created with Tamerri Ater, a Black woman and Versed's product development director, who helped formulate a sunscreen that is wearable for all skin tones. Plus, the formula has a peachy tone that's almost color-correcting, too.
What I like so much about the Versed Guards Up sunscreen is that it's free of parabens, silicones, sulfates, and fragrance, which can all irritate my sensitive skin. The UVA/UVB protection shields my skin from the sun's harmful rays and from the blue light from screens. TBH, as someone who has been spending an embarrassingly large amount of time in front of my phone or laptop, this is a huge plus for me! I love knowing that my skin is well protected whether I am outside or not.