Did Gianni Versace actually admit he was gay to "The Advocate?" Yes, and it's something Ryan Murphy greatly admires
Throughout this season of American Crime Story, Ryan Murphy and FX have often been forced to use their imagination. As many of the real people depicted in the series are dead and the victims' families have largely kept quiet, The Assassination of Gianni Versace has often had to take creative liberties when recreating the narrative. Using a plethora of source material, from Maureen Orth's Vulgar Favors to newspaper articles and FBI reports, FX has had to imagine interactions between Andrew Cunanan and his victims — and even depict events never confirmed by the victims' families.
In the opening moments of the fifth episode "Don't Ask, Don't Tell," Gianni (Édgar Ramírez) tells his sister Donatella (Penelope Cruz) that, much to her chagrin, he's going to publicly disclose his sexuality to The Advocate. Donatella derides Gianni's decision and tries to dissuade him, concerned that coming out as gay could put their company in jeopardy but Gianni remains steadfast in his decision.
While ACS has taken many creative liberties with its depiction of Gianni, the fashion designer famously did reveal his sexuality to the Advocate in 1995.
In a moving moment during "Don't Ask, Don't Tell, Gianni interrupts his own interview with the Advocate to introduce his longtime partner Antonio D'Amico (Ricky Martin) to his profiler, Brendan Lemon, revealing that they've been together for 13 years. Often publicly relegated to the position of Gianni's assistant, Antonio is visibly moved.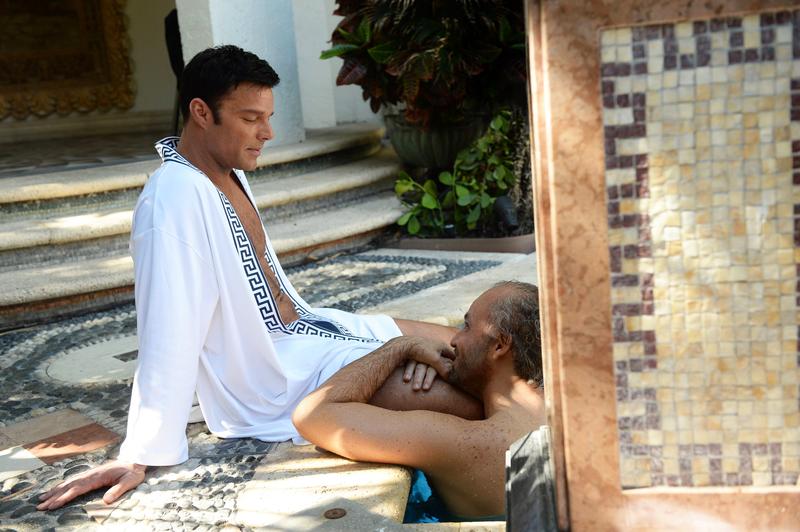 While Gianni's decision to publicly come out was a big deal in and of itself, it had a lasting effect on him. During the Television Critics Association tour last summer, Murphy opened up about what Gianni coming out in the Advocate interview meant to him and what it was like to film the interview.
"I admired that and always did, Murphy said. "I loved him and looked up to him, and was so proud and excited when he did that interview in the Advocate. At that time there weren't a lot of people brave enough to live their lives in the open. So for me, I had a great passion for it, and I was very emotional shooting it."
The scene was incredibly moving, especially interwoven with Jeff Trail's (Finn Wittrock) anonymous CBS interview regarding being gay in the military, reminding viewers that while Gianni Versace was able to live a proud life as a gay man, many others were forced to remain in the closet for the sake of their lives.
You can read parts of Versace's Advocate interview right here.