Venus Is Entering Scorpio—Here's What This Means for Your Zodiac Sign
Your emotions will be at an all-time high.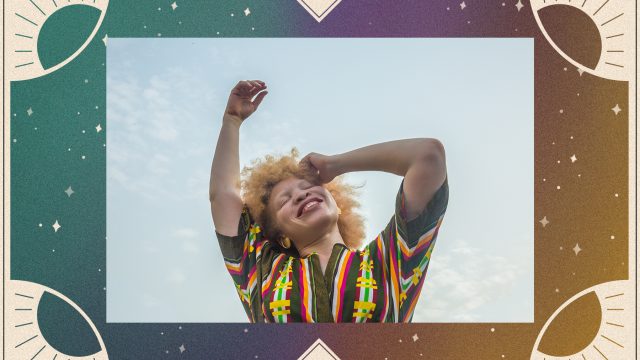 Venus, the planet of love, social graces, sensuality, and money, will be entering Scorpio on November 21st and swimming in these deep emotional waters until December 15th. During this time, emotions and passions will be heightened. You'll want to connect with others on an intense level and create bonds that won't ever be broken.
Read below for your Venus in Scorpio horoscope, and make sure to read your rising sign, too.
Aries
Your intuition is on point, which means that you can look inward to find all the answers. This will help you out with your squad and colleagues when you're asked to make alliances. You'll only choose to give your time to those who have good energy.
Taurus
You're more comfortable in a group setting these days. But since we can't hang around a bunch of peeps, you'll find yourself wanting endless Zoom and FaceTime sessions with your crew to connect. You miss them immensely. You want to chat, gossip, and share the latest personal "tea" with them.
Gemini
Always one to be on the go, you're taking a few moments to chill and reflect. You may even want to veg out by warming up with hot cocoa and Netflix. Any activity that requires the least amount of brainpower and work is now preferred. Take it easy, Gemini!
Cancer
You're in a playful and flirtatious mood these days, mostly due to the autumnal, sensual vibe that you're feeling. Be sure to use your good vibes wisely and give a little love to your friends, not just to your latest crush or boo. After all, they could use some positivity now.
Leo
Home is where your heart is—and it's with your family, too. Aligning yourself with your emotions will allow you to see where you're going based on where you've been. Also, your sentimental and nostalgic mood will allow you to connect with your fam on a deeper level these next weeks.
Virgo
Words have charisma and passion now. All the more reason for you to incite a romantic vernacular into the texts you send to that special someone. They'll yearn to engage with you on a deep level. For the first time in a while, you'll want to share your poetic sentiments.
Libra
Budgeting for your holiday shopping will be hard but necessary over the next few weeks. Before spending your hard-earned money on presents for your friends and family, ask them if you can skip the gift-giving or make handmade presents instead. Your wallet and creative side will be grateful.
Scorpio
Sometimes you feel overlooked and not good enough to compete for the affections of others. However, this is not one of those times. You're finding that people want to grant you kindness and gifts just for being you (which is awesome). Enjoy this audacious and lovely energy in the weeks ahead.
Sagittarius
Life is but a dream—literally. And, TBH, there is no better way to enjoy this sentiment than resting your lovely bones. This means not overdoing it by overworking and extending your energy. Take time to rest and relax. Turn your iPhone and computer off to focus on yourself.
Capricorn
Connecting with your inner dreams and aspirations over the next few weeks will bring you to a place of enlightenment. You'll know which avenue to take and what visions are working for you. Not only that, but you will be certain of the next steps needed to harvest your opportunities.
Aquarius
A new project at work will boost your creative passions. You will be able to use your ingenuity and artistry to transform your goals and tasks as well as the environment in which you work. Allow your imagination to help shake up and change the system for the better.
Pisces
You are aspiring to high ideals, not just for yourself but for others who are in your orbit, too. Having a high sense of worth is important—so is demanding excellence from others. The most valuable thing that you're learning is not to settle. Set the bar high, Pisces.