The latest Venom trailer gives us a terrifying look at Tom Hardy's anti-hero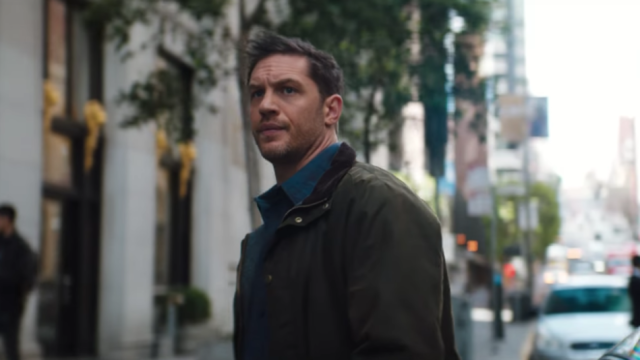 After what seemed like an eternity, the first official Venom trailer that we've all been dying to see has finally arrived, and it did not disappoint. Not one bit. And unlike the previous Venom teaser, which was pretty much void of any plot details and left a lot to be desired, this one actually has Venom in it. Lots and lots of Venom.
The trailer begins with an introduction to Tom Hardy's Eddie Brock. We learn that he's a tenacious investigative journalist who's determined to uncover the truth about Riz Ahmed's Dr. Carlton Drake and his dangerous scientific experiments at the Life Foundation. "You recruit the most vulnerable for tests that end up killing people," he tells Drake during a visit, which immediately leads to him being escorted out of the laboratory.
He gets followed by Jenny Slate's character, an employee who works at the Life Foundation. She reveals that they are working with symbiotes — otherworldly parasites that need human hosts to live. She tells him that Drake believes that "the union between human and symbiote is key to our evolution."
Brock goes back to the laboratory to see for himself, and while it isn't explicitly shown in the trailer, one of the symbiotes somehow gets in contact with him.
He starts to feel queasy and rushes back to his apartment, only to be attacked by a group of henchmen. As he tries to fight them, he suddenly discovers that he has extraordinary combat skills and takes them all out. "Why would we do that?" he asks himself ominously.
All hell breaks loose, and we see Brock eventually turn into a beautifully horrifying creature with gooey black skin, rows of shark-like teeth, massive slanted eyes, and a long snaking tongue we now know as Venom.
See Venom for yourself:
https://www.youtube.com/watch?v=u9Mv98Gr5pY?feature=oembed
"I just have to say, being a part of this movie and playing Venom is truly a dream come true for me, because to be brutally honest, I was looking to do a movie that initially my son could watch," Hardy shared at CinemaCon. "It appealed massively to me because he's one of my favorite characters, and I chased after this movie both for me…and for my son."
Rounding out the cast are Michelle Williams (who stars as Brock's lady love Anne Weying), Woody Harrelson, and Reid Scott.
Venom opens in theaters on October 5th.