10 vegan smoothie recipes that will basically give you superpowers on the way to work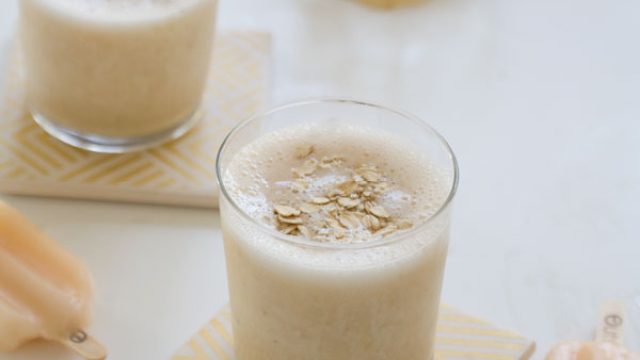 When you're in a mad rush in the morning to get out the door, you might not be thinking about making a balanced, healthy breakfast. We know you know how important it is to fuel your body for the day ahead, which is why we're all in for smoothies to help you power through your day. Smoothies are a ridiculously easy way to add protein, fiber, and other important nutrients to your diet, all with the push of a button on your blender.
That's why we love these incredible vegan smoothie recipes that are perfect for both vegans and meat-eaters alike. We know it's tough for anyone to find time to eat a filling breakfast, but it's especially crucial if you're a vegan to get enough protein in your diet.
These vegan smoothie recipes provide the important nutrients you need to start your day off right, and they're as easy as chopping up a few fruits and veggies, hitting a button on your blender or food processor, and yum!
1Almond Butter Hemp Smoothie
This vegan smoothie consists of only five ingredients and requires absolutely no chopping, so you can literally throw everything into the blender and have a satisfying, healthy morning meal in a matter of minutes. Perfect for those mornings when you hit the snooze button like 5 times and have no time to cook anything.
2Beetroot, Ginger & Banana Smoothie
Aside from being the most gorgeous color ever, this smoothie combines some totally delicious veggies, fruits, and spices to give your AM a flavor-packed boost. Win-win!
3Vegan Mint Chocolate Chip Smoothie
If you prefer your smoothies to taste more like a milkshake (and don't we all?) you need to try this vegan smoothie recipe, which is both refreshing and sweet, making it perfect for any chocolate lover.
4Post-workout recovery smoothie
https://www.instagram.com/p/BYqGrNdlbdQ
If you're of the mindset that a smoothie isn't a smoothie unless it's green, we've got you. This one is loaded in protein and fiber with the perfect amount of sweetness, and it will totally have your sore post-workout muscles thanking you.
5Wild blueberry vanilla smoothie
This vegan smoothie will make you feel like you're on a tropical vacation instead of the train to work. Just add frozen wild blueberries, frozen bananas, vanilla coconut yogurt, almond milk, rice syrup, and spinach to your blender and you've got yourself a beautiful blueberry smoothie.
6Game of Thrones-themed smoothie
If you're a huge GOT fan, we don't have to tell you twice that winter is coming. This stunning vegan smoothie requires a little more prep, but it's perfect for those mornings when you are up way before your alarm and have a little time to kill.
7Pink smoothie
This beautiful pink vegan smoothie requires five different kinds of fruit, so it'll satisfy any sweet tooth while still being totally nutritious. Plus, it'll look gorgeous and will no doubt make all your coworkers totally jealous. Eh, take the petty little bonus.
8Creamsicle smoothie
Is anything better than a combination of tart citrus, fruity sweetness, and a little bit of healthy crunch? This creamsicle smoothie provides a mega-kick of vitamins and nutrients to help boost your immune system and give you enough energy to power through to lunch, which is basically what we all need in the morning.
9Red, white, and blue polka dot smoothie
OK, so we know the Fourth of July is long behind us at this point (hello, fall!), but we're still obsessing over this creamy vegan smoothie that looks just as good as it tastes. You'll be enjoying this one well into the winter months, daydreaming about summer with every sip.
10Carrot & strawberry smoothie
This vegan smoothie couldn't be easier to whip up in the mornings, and it will give you all the energy you need to tackle whatever the day may bring. Toss a banana, a carrot, and strawberries into a blender with coconut milk, peanut butter, and some spices, and you've got yourself a nourishing, delicious morning meal that all your coworkers will covet.
Whip out those blenders to try some of these incredible vegan smoothies. You'll never toss a sad granola bar in your bag again!