15 grocery store vegan products you have to try before you die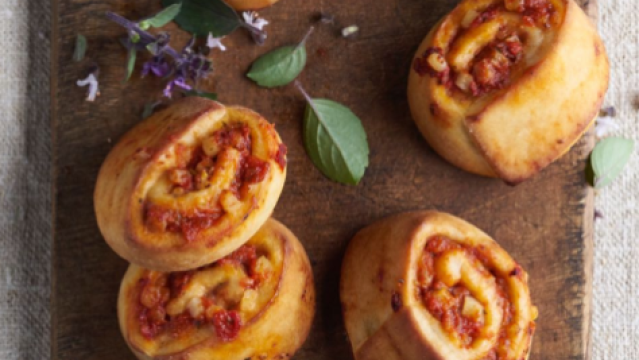 You've decided to go vegan and are now on the hunt for vegan holy grail items. It's true that you can head to your local health food store to do so. But because veganism has become more mainstream in recent years, your go-to local grocery store has most likely been stocking up on vegan products.
In celebration of World Vegan Day on November 1st, we've compiled a list of vegan snacks, meals, and staple products that you can find in the aisles of your neighborhood grocery store. Going vegan isn't as daunting as it once was, so jot down a shopping list, and grab your tote bags. Let's go food shopping!
Dark chocolate truffle, cappuccino, snickerdoodle, oh my!
Not to brag, but these oats actually hold the title of World Champion Oatmeal determined by the Golden Spurtle World Porridge Making Championship in Carrbridge, Scotland.
You can now have your fish tacos and eat them, too!
Who knew coconut milk could be yogurt-ized? So Delicious did.
Pizza bites are no longer for meat and cheese-eaters. Bring on the savory goodness!
https://www.instagram.com/p/BHAaktgQOpk
We're serious. Thomas' Bagels in Blueberry, Cinnamon Swirl, Cinnamon Raisin, Everything, Onion, Plain, Plain Made with Whole Grain, and 100% Whole Wheat are all vegan. Rejoice!
All of Newman's Own's proceeds go to charity, so you can feel even better about eating these vegan cookies.
We're sorry — we just realized this veggie burger pic might be too sensual for this site. Our sincerest apologies.
If you're eating nachos that don't have ground beef/a ground beef alternative, then are you even eating nachos?
The cinnamon sugar-flavored pita chips taste like fried dough — pass it on.
Bacon is a hard thing to quit cold-turkey, but Sweet Earth's plant-based bacon alternative is guilt-free, and dare we say too delicious?
Life is better with butter, and butter is better when it's vegan.
This meal might be the most comforting of all comfort foods.
It's like eating a healthier version of a Chipotle burrito bowl with zesty, tropical flavors.
As Trader Joe's put it, riced cauliflower is totally a "thing."
You have a lot to celebrate during World Vegan Day if you've decided to make said lifestyle switch. Be proud of your efforts to eat cleaner and treat yourself to a veggie burger. You've earned it!