Beauty lovers might want to consider switching to an all-vegan makeup routine because of these 14 brands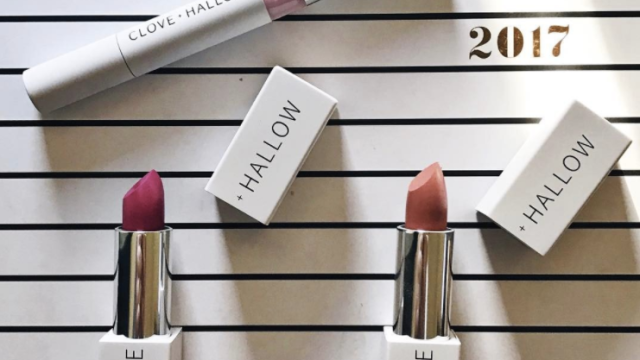 So many of makeup brands rely on toxic and animal-derived ingredients that can be harmful to skin and the environment in the long run. Luckily, there are some fabulous vegan makeup brands committed to transparency about their ingredients that would love to baby our faces while taking all of our money.
Before we give you the run-down of our favorite vegan makeup brands (and products), we think it's crucial to clarify that the label of vegan means a makeup product contains zero animal-derived ingredients. This is not to be confused with cruelty-free makeup. Many times, the two go hand-in-hand, causing the sun to smile upon their treatment of animals, but they're not the same label.
Generously, we have rounded up some of our favorite vegan makeup goodies for your pleasure!
We'd be betraying ourselves if we created a round-up of vegan beauty brands and didn't include the beloved and wildly popular Kat Von D Beauty. Everything Kat Von D is cruelty-free and vegan, so you can shop the whole collection without a single worry, except which occasion deserves your new bold lip.
https://www.instagram.com/p/BRoSidTFAOI
We're fairly in love with everything she puts out, but the bold colors available in the Everlasting Liquid Lipstick collection ($20 each) might just take the cake for us.
Everything from the Portland-based brand Alima Pure is cruelty-free and made from natural non-synthetic ingredients, and with the exception of a handful of lipsticks (which contain carmine), their makeup collection is also vegan.
All of their foundations and mineral makeup options are completely vegan and gentle on the skin (while giving you good coverage). We're particularly fond of their Pressed Foundation with Rosehip Antioxidant Complex ($34) for a silky and gentle finish.
All of the products from Trust Fund Beauty are 100% vegan and cruelty-free, which is both wonderful and overwhelming because there's a lot to choose from!
With everything from nail polish cleverly named Money Buys Happiness ($15), to a highlighter named That Glo Tho ($20), we have a feeling you'll have no problem finding something you love that also matches your mood.
For those of us who remember aggressively putting on Wet N Wild lip gloss as young teenagers in the mall, the concept of the popular brand going vegan might sound outrageous. Although they aren't 100% vegan, Wet N Wild has been gradually increasing their list of vegan makeup options. Which we're all about!
We were particularly excited to find out their Back to the Fuschia MegaLast Liquid Lip Color ($1.49) is one of their vegan options! If that's not your shade, we also recommend the Do I Make You Blush? MegaLast Liquid Lip Color ($1.49), which is a darker, slightly more nighttime look.
The cosmetic brand Jolii has luxurious vegan and cruelty-free options aplenty.
We are super into the three-pack of Luxe Creme Mattes lip colors ($45), which includes the shades: Lilla (a deep blue lavender), Succosa (a rich orange) and Nudo (a light coffee brown).
We already loved the cosmetic bounty of PUR Cosmetics, but we were even more excited to find out they had a list of 42 vegan and cruelty-free products to peruse guilt-free!
Since it can sometimes be more difficult to find bold-colored pigments that are 100% vegan, we were particularly excited to see their shimmery Royalty 5-Piece Eye Polish Collection ($42) is included on their coveted list of vegan makeup.
We are huge fans of the cruelty-free and vegan options from Hourglass Cosmetics, in fact, it's difficult to narrow it down. For starters though, might we suggest the Veil Mineral Primer for light coverage?
Just a note, be sure to check the labels when purchasing Hourglass, because all of their cosmetics are cruelty-free, but not all of them are vegan.
The affordable high-end makeup dupes from E.l.f. Cosmetics are forever stealing our hearts, and the best part is all of their makeup is vegan!
The only products you have to double-check are the brushes, which is no problem. If you're looking to gussy up your eyeshadow game, we're 100% into their Rose Gold Eyeshadow palette.
Not only do we love the creativity products that come out of Too Faced, but all of their products are cruelty-free and they have a long list of vegan makeup options available!
Our favorite vegan Too Faced products? That's definitely a tie between the Better than Sex Mascara and the Cocoa Contour Palette.
Cover FX is another brand you can shop freely and guilt-free, because all of their cosmetics are vegan and cruelty-free!
You'll want to double-check their brushes, because a handful aren't vegan, but luckily for you, their Perfect Light Highlighting Palette is gorgeous and 100% vegan.
https://www.instagram.com/p/BSMm_NPBgoK
Smith & Cult is one of the hippest makeup lines we know, and their Lash Dance mascara is beloved by various members of the HelloGiggles staff.
https://www.instagram.com/p/BR4mxabBHMA
They are also completely vegan and 12-free! Rejoice!
Stellar, which might become one of your new favorite Sephora-carried brands, is completely vegan, cruelty-free and formulated without parabens, sulfates, phthalates, mineral oils and fragrances.
Their Limitless Foundation comes in 22 shades.
If you're looking for a new cosmetics line to get obsessed with, CLOVE + HALLOW might hit all of your requirements.
Not only is it vegan, cruelty-free, and made in the US, but it uses a "Clean 15" approach, which means that instead of loading up their products with questionable chemicals, they carefully select 15 or fewer ingredients for each one.
Milk Makeup is over 60% vegan — which includes their new Blur Stick and their classic Holographic Stick. Plus, they make it easy to shop those specific products on their site with this vegan page. Thanks, Milk!
Now you can go on your way and celebrate Earth Month armed with a bounty of vegan makeup options!