6 vegan holiday desserts that will probably be the best thing you've ever tasted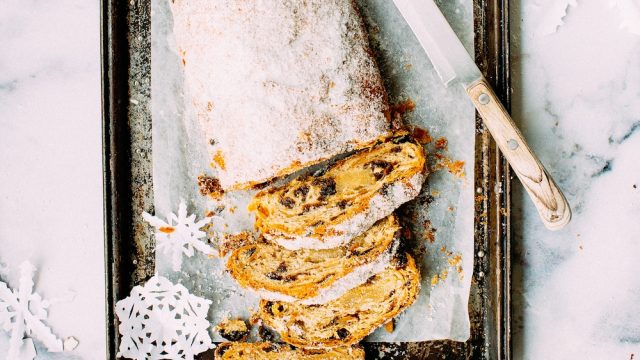 This time of year is packed with more evocative smells than a Bath & Body Works. Cloves, gingerbread, hot chocolate… those festive flavours will put you in the Christmas spirit quicker than your fave holiday movie. But when you follow a vegan lifestyle, holiday baking isn't always friendly to your diet. Mincemeat pies? Eggnog? Even the names are enough to send you running!
(Psst – don't forget to top ALL THE THINGS with this amazing vegan whipped cream.)
Luckily, there are plenty of epic vegan holiday recipes out there these days – so you can get in on all the festive goodness and stay true to your vegan self. From dairy-free hot cocoa to pumpkin spice cupcakes (oh yes), there's a plant-based recipe to tempt everyone's sweet tooth.
Chai-spiced donuts with vanilla frosting
https://www.instagram.com/p/BOEslX5g8cA
These chai-spiced donuts from plant-based blogger Goodness is Gorgeous are waaaay too easy to make. With just a handful of ingredients, you can whip up a fresh batch of these totally addictive little pastries for dessert. There's vegan chai latte in the actual batter, so yes, they taste totally legit.
Cashew milk hot chocolate with marshmallows
https://www.instagram.com/p/BNct5bhAL1j
Vegan cocoa with handmade chocolate, cashew milk, and marshmallows? Yes please! If you can't make it to posh plant-based resto Planta, you can totally DIY the recipe. Since marshmallows are usually made with gelatin, a fancy cup of cocoa makes an extra special holiday treat for your vegan friends. These days there are plenty of reliable vegan-friendly brands, or you can make your own plant-based marshmallows.
Raw chocolate wreath
British blog Livia's Kitchen is packed with plant-based holiday recipes, but we're especially in love with this centrepiece-worthy chocolate wreath. Livia rates this a medium difficulty recipe, but you get maximum chocolatey goodness in return.
A not-so-traditional English trifle
When Rachel attempted a holiday trifle on Friends, it ended up stuffed with meat. You can be sure that this version, from London's legendary vegetarian restaurant, Mildreds, is definitely meatless. Trifle is a labour of love to make, but this recipe from the Vegan Pantry is so jam-packed (literally!) with fruit flavor, it's totally worth it. Yum.
Flourless chocolate cake
Nothing – and we mean NOTHING – says Christmas like flourless chocolate cake. (Although, if you really wanted to kick things up a notch, you could opt for this fig-infused chocolate cake. Come bring us some figgy… erm, dessert.) The Unconventional Baker's vegan version is super simple – you don't even need to bake it.
Pumpkin spice cupcakes
Pumpkin spice season ain't over till it's over – and we say it's still on. These epic plant-based cupcakes are from LA's Real Food Daily, but you can dupe your own. Try the Healthy Helper's adaptation of the famously yummy recipe from the Oh She Glows cookbook.