The "Veep" cast completed the most epic HBO-themed escape room, and we might die of jealousy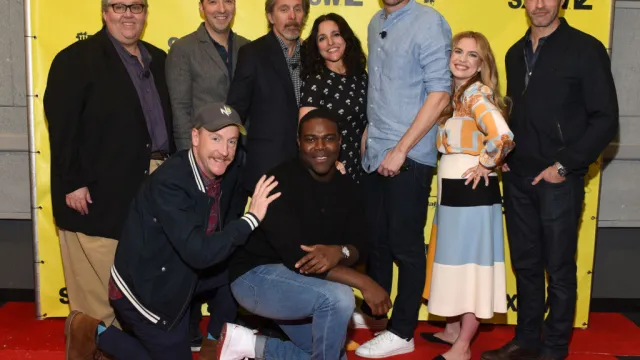 This week, tons of our favorite TV and film stars headed to South By Southwest (SXSW) in Austin, Texas for one of the coolest film and tech festivals around. And this year, the cast of Veep had a panel, so tons of them are currently in Austin having a blast.
At their panel, the cast addressed how the big finale of Season 5 will affect Selena Meyer's role in Season 6. But that was definitely not the most fun the cast and showrunner had at SXSW. Because they all hung out during the day and went through the HBO: The Escape, a multi-room escape room that looked like SO much fun. They had to work through three rooms inspired by three awesome HBO shows — Veep, Silicon Valley, and Game of Thrones.
Julia Louis-Dreyfus and her cast all went together through the HBO experience.
Julia went in a group with Tony Hale, Matt Walsh, and showrunner David Mandel. Other cast members Anna Chlumsky, Reid Scott, Gary Cole, Sam Richardson, and Timothy Simons went through in a second group.
The Veep Room
The first room was the Veep oval office, where teams must find the key to open the ballot box.
The Veep teams' confused looks remind us a lot of how their characters look on the show, dealing with various political nonsense.
Luckily, Tony Hale followed in his character's footsteps and found a key in THE BAG.
And OMG, Julia's reaction when they finally opened the ballot box. She is all of us when a surprise like that happens.
Veep Team #2 was successful as well.
Up next, things got a little more technical as the crew headed into a new HBO comedy.
The Silicon Valley Room
Next up, teams had to solve the puzzle in the Pied Piper house.
https://www.instagram.com/p/BRhrEK7AteJ
https://www.instagram.com/p/BRjFpI8BnK4
The Veep team had to concentrate hard to sort through this technological puzzle.
But of course, the answer was in the toaster oven all along!
And finally, they headed for the most epic puzzle yet, because Winter is Coming!
The Game of Thrones Room
And finally, teams traveled to Westeros for the chance to reach the Iron Throne.
Yes, it IS actually snowing in there, which is awesome. Teams had to find a secret scroll that held the all-important clue.
Anna Chlumsky even read their scroll with a very Game of Thrones-esque accent.
"Winter is coming, Castle Black is under attack, You have five minutes to escape, You must build a map that will guide you to the Iron Throne, Only then will you be able to open the gate, Which will require all of your team's strength.
Once all the puzzles were solved, teams just had to turn the crank to open the Iron Gate…
And finally, Selena Meyer got to sit on the Iron Throne, flanked by her loyal knights.
And TBH, we'd love to see what she'd do while ruling over the Seven Kingdoms. But that might not top the photo of this adorable dog, who also successfully conquered all.
We are of course feeling ridiculously jealous. But we love that the Veep team basically took us through the HBO Escape with them. Because we can at least live vicariously through their SXSW puzzle-solving. But we're glad that everyone escaped, because we need more Veep in our lives.