There's going to be a "Varsity Blues" series and we're jumping for joy
So it turns out we'll soon get to watch a whole lot more the football movie we love to love because Varsity Blues willsoon be a TV series on CMT.
We're not sure exactly when yet, but WE CAN'T WAIT.
Can you believe the film version came out way back in 1999? How have we lived without this soon-to-be-TV-series for this long?! And will James Van Der Beek be in it?! We already so many questions. (And, thus far, we heard that Van Der Beek will not be in it, but we can still hope.)
Of course, our beloved Friday Night Lights series was a film before a TV show, so we have the same hopes and dreams for the crossover success of Varsity Blues. Both have similar premises in that a super-star quarterback gets injured and the second-string QB gets to fill in(in Varsity Blues it's James Van Der Beek's character and he is perfection).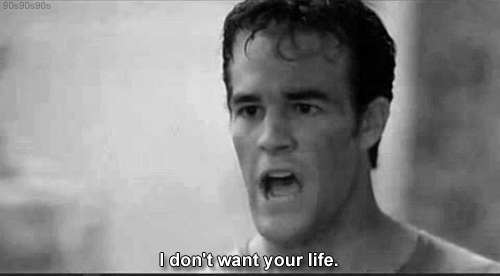 And who can forget his obsessive dad (Thomas Duffy) and intense coach (Jon Voight)?
Peter Iliff (who wrote the movie Varsity Blues) is writing the TV version with Paramount TV set to produce.
Also, there's not much more information about exactly how they'll make this transition, but since the movie made over $54 million at the box office and has a solid fan base, we're sure the TV adaptation will be really successful. We'll definitely be watching!
To whet your appetites, here's a trailer from the movie that you can watch over and over again until this series graces our televisions.
https://www.youtube.com/watch?v=eSnkWiacUW4?feature=oembed