Variety just published a groundbreaking open letter to Hollywood about trans representation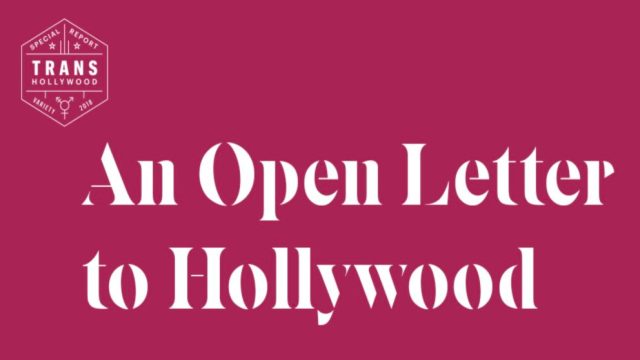 Over the past few years, the call for better representation of all races, genders, and sexualities onscreen has reached a fever pitch. And yet Hollywood as a whole still lacks diversity—and one of the most underrepresented groups is the transgender community. The latest issue of Variety turns the lens to this problem and spotlights a number of trans voices.
Variety's Transgender Hollywood issue, published today, August 7th, includes a roundtable discussion about discrimination between trans stars like Laverne Cox and Chaz Bono, as well as a profile of Caitlyn Jenner's changing political views. In another story in the issue, Transparent actress Alexandra Billings calls out the casting of Scarlett Johansson as a trans man in the film Rub & Tug, from which Johansson later withdrew.
The issue also includes an open letter to Hollywood, signed by nearly four dozen advocacy organizations, talent agencies, studios, and production companies who have committed to working toward better representation. The letter cites the high murder, suicide, and poverty rates among the trans community and stresses the importance of telling trans stories. It notes that better onscreen representation can help people "understand how to feel about the people around them who are different."
"We believe that when trans people are empowered to help culture makers tell our authentic stories, it will improve how we are treated in the real world," the letter states. "Those negative statistics above will become a part of our history, not our present."
GLAAD and 5050by2020—part of the Time's Up organization—put together the letter as well as a resource guidebook for studios about how to work with trans talent. The organizations that signed it include SAG-AFTRA, the American Civil Liberties Union, Ava DuVernay's Array Alliance, J.J. Abrams' Bad Robot, Ryan Murphy Productions, and Judd Apatow Productions.
In an interview with Variety, Transparent creator Jill Soloway noted that hiring trans people to work on a project about the trans community is just as important as hiring people of color to work on a project about people of color. They added that casting cis actors to play trans characters can contribute to hurtful misconceptions (and that they regret casting a cis actor as the trans lead in Transparent).
"When it comes to culture-making in Hollywood, one of the issues trans people face on a day-to-day basis is this idea that they're 'dressing up' as the opposite gender," Soloway said.
Trans representation in Hollywood should not be ignored, and we applaud Variety for drawing attention to this issue. It's 2018: we need to do better.